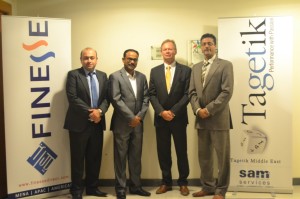 Tagetik Middle East appoints the fastest growing System Integration Company in the region as Preferred Reseller for Tagetik 4 covering Budgeting, Planning, Forecasting, Consolidation and Collaborative Disclosure Management.
UAE. July 10, 2014 – Tagetik Middle East, the exclusive distributor of Tagetik, a global provider of enterprise software solutions for performance management, disclosure management, financial governance and business intelligence, today announced that it has appointed Finesse (www.finessedirect.com) as its Preferred Reseller. The Tagetik software will be marketed and sold by Finesse in the Middle East region.
 Tagetik is the world's fastest growing Corporate Performance Management System, which is also positioned in the visionaries quadrant of 'Gartner Magic Quadrant for CPM  Suites 2014'. With more than 600 satisfied CPM customers worldwide, Finesse is excited to introduce Tagetik into the region. Tagetik can bring in immediate value & deeper insights for the CFO's and CXO's of our clients, said Sunil Paul, Co-Founder & Chief Operating Officer of Finesse.
"We are pleased to have Finesse as a Preferred Reseller," adds Marc Gillis, Managing Director at Tagetik Middle East.  "Tagetik Middle East has been looking for a trusted and focused reseller who has sufficient skills and resources to manage the frontline sales process and found Finesse a perfect fit for this role. We are pleased that the synergy between Tagetik Middle East and Finesse is capable of creating a sound offering for clients covering the entire life cycle of product offering. In addition, the team members at Finesse has good understanding on CPM offering and has qualified resources to support the sales process."
"We are very pleased to welcome Finesse to our focused and select list of resellers," says Dr. Sunil Kumar, Regional Head at Tagetik Middle East. "Our partnership with Finesse will bring Tagetik to the desk of most powerful CFOs in the region and create an unparalleled wave of Finance Empowerment. We aim to cover broad spectrum of industries and sectors and provide solution for Budgeting, Planning, Forecasting, Consolidation, and Collaborative Disclosure Management with the help of large resource team at Finesse. We welcome Finesse to the Preferred world of CPM."
About Tagetik
Tagetik is one of the fastest growing global software companies in the Performance Management industry, with operations in more than 30 countries and over 600 customers worldwide. Tagetik delivers enterprise solutions while providing a 'boutique' experience, resulting in the highest level of client satisfaction in the industry.
  With deployment options in the cloud or on-premises, Tagetik 4 provides robust functionality for budgeting, planning, forecasting, consolidation, close, reporting, profitability analysis, disclosure management, financial governance, and business intelligence – all from a single, unified platform. By moving to a unified financial solution, Tagetik customers have dramatically increased organizational efficiencies, reduced risk, saved money and improved their companies' bottom lines.
 About Finesse
 Finesse, a 'Red Herring Global Top 100 System Integration company' & 'Winner of Integrator ICT Champion Software Solutions Integrator – 2014'  provides Technology Solutions and services to Banking, Education, Energy, Healthcare, Hospitality and Retail segments.
Finesse solution offerings are primarily focused on: Business Intelligence & Analytics, Enterprise Content & Business Process Management, Governance, Risk & Compliance areas. Finesse believes in Unified communications and is determined to deliver business information and tangible value through:Cloud-Ready Solutions, Mobile Devices, Social Media Platforms
Finesse brings together advanced technology, robust infrastructure, a large pool of talent and a proven global delivery model to provide a wide range of IT services to its clients cost-effectively and seamlessly. Finesse consultants possess excellent  functional, operational, and technical knowledge in their domains.  This experience has proven invaluable to Finesse clients their  teams identify and implements industry best practices and leverage on real life experience to implement solutions that are proven and best suited to their clients;
For more information: www.finessedirect.com