One of the first Emiratis to successfully complete the prestigious Associate Chartered Accountant qualification in the UAE, speaks to Accountant Middle East about his journey to the top.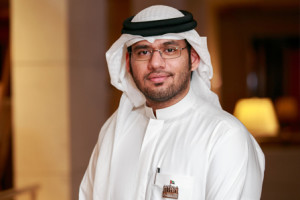 SAEED AL MADANI, a senior Auditor at Mubadala, has become one of the first Emiratis to successfully complete the prestigious Associate Chartered Accountant qualification (ACA) in the UAE.
Goals and aspirations
Having passed all his exams in December 2013,Saeed was thrilled: "I was eager to fast track my career with a world-leading qualification that would equip me with all-round skills to become a business advisor but also distinguish me from the crowd. So after extensive research and consultation with seasoned professionals, I realised that the ACA from ICAEW is the most suited qualification to help build the businessand technical foundation I needed to achieve my future goals and aspirations. It has given me an additional level of confidence in my workplace," he said.
"The UAE's economy has been growing steadily,so there is no room for business professionals to be complacent. With this in mind, more Emiratis should consider training to become Chartered Accountants, obtain solid grounding of business knowledge and contributing towards the economic development of the country," he added.
Internationally recognised as the premier financial business qualification in 160 countries around the world, the ACA from ICAEW is held by more than 140,000 professionals whohave undertaken the requisite theoretical and practical training. Through IESS applicants secure an ACA training place and a three-year contract with either Deloitte, Ernst & Young, KPMG or PwC.
Skilled national talent
With the UAE's GDP expected to increase to AED1.7 trillion in 2018 ICAEW says the country will need to attract more skilled and qualified national talent to the finance profession tosustain its long term economic growth.
Peter Beynon, ICAEW Regional DirectorMiddle East, said: "A robust and well-functioning financial sector is essential for economic development. However, the UAE does not currently have enough Emiratis training tobecome future leaders in accounting and finance.The ICAEW Emirati Scholarship Scheme is, with the support of our government and authorised training partner, helping to close this gap."
"I'd like to congratulate Saeed on his achievements, which is both a fantastic personal accomplishment and a milestone for ICAEW in the Middle East. We are confident he will continue toenjoy a bright future in his professional career and serve as a positive role model for his fellow peers," said Martyn Jones, ICAEW President.
The ACA has integrated components which give students an in-depth understanding across accountancy, finance and business. To qualify as an ICAEW Chartered Accountant, students will need to complete all components of the ACAqualification which include exams and practical work experience.
Accountant Middle East caught up with Saeed AlMadani for this exclusive interview, where he spoke about his journey to becoming an ICAEW-qualified professional. Excerpts from the interview;
Why did you decide to study accountancy?
Because of the possibilities. I learned earlier on that in order to be in the business world and succeed in it; grasping the language of business was necessary. Luckily I've always been fond of mathematics and economics, so the decision to choose accountancy was one of the easiest decisions I ever made. It has opened many doors and provided career opportunities that I never thought would happen.
Is your role with Mubadala Development Company your first professional position? What is your current role and how did you go about securing it?
My first professional position was working as a Government Auditor for His Highness the Ruler's Court of Dubai, prior to joining Mubadala. At Mubadala I was not only offered a place in their Internal Audit Unit, but was also given the opportunity to choose a professional qualification that would contribute to my owndevelopment and long-term career goals.
Naturally when an opportunity of this magnitude knocks; you answer. I found that the combination of working in a fast paced environment and the exposure to different company-wide processes across different sectors and geographies has been positively worthwhile as it provided me with a breadth of invaluable experience. It is a career path that has exceeded my expectations of what I had initially planned in order to become a business leader. This has been possible due to Mubadala's vision to develop anew generation of business leaders – and I am grateful for all the support that I have received from day one of working in the company.
What do you think are the challenges in your job today?
Internal audit has become an importantcontributor to a company's success given the challenges and co lexity faced in today's business environment. This has broadened the scope of internal audit's activities and suggests that the skills and competency requirements of employees has increased in the workplace. So it is imperative that appropriate skill-setsare developed via training and professional education for staff.
What skill sets do you require in your current role to support day-to-day business operations?
Internal auditors are seen as strategic advisorsto the business, so it important to have a mixture of business knowledge and critical and strategic thinking to provide value by playing a key role in improving efficiency and driving strategic insights.
Do you think having a prestigious accountancy qualification such as the ACA is a must for succeeding in your profession?
Yes. The ACA will equip you with all round tools to become a business advisor not just a financial reporting accountant. This is because the training programme requires you to learn about subjects that extend beyond accounting, which includes Tax, Law, Finance, Business Strategy and Audi & Assurance and apply this knowledge on real- life scenarios across different business sectors. The programme is a combination of working full-time and undergoing academic study, allowing you to integrate your technical and professional skills with practical work experience to arrive at commercial answers.
What does an ACA qualification add to your credentials?
It provides global recognition as global leaders in accountancy, finance and business. I believe the ACA from ICAEW has differentiated me from the crowd due to the rigorous training programme that provided me with competencies and financial intelligence that is needed in a demanding business world.
What challenges and incentives motivate you to expand your role?
The different types of audits, the clearly defined career path and the interactionwith seasoned professionals incentivise me to expand my role within the company. 
Where do you see yourself five years from now?
I see myself growing with Mubadala in the fields of Accountancy, Auditing andFinance where I believe I can continue to take on additional responsibilities and contribute as much value as I can. I also plan to remain involved with the Institute of Chartered Accountants in England and Wales to further promote the accountancy and finance professions in the region.
As one of the first two Emiratis to receive an ACA qualification locally, what is your perception of financial and accountancy education in the UAE?  Is it evolving? Is vocational training important to supplement what you have learnt at university? Would you recommend more Emiratis join the accountancy and finance profession? Why?
 I think the financial and accountancy education is indeed growing in the UAE. Emiratis are becoming more aware of the importance of attaining a professional qualification to kick-start their careers. It should be their determination to work hard, grow and seize opportunities that would not only contribute to their own career aspirations but also support the country to become a global player. The UAE is the definition of making history and thinking big, so Emiratis should bemotivated to follow the same spirit in whatever field they choose.