Beginning its UAE journey as 'Caliber Middle East Chartered Accountants' in 2005, Managing Partner P.P. Kunhamad Koya has since overseen the firm's integration into the TGS Global accountancy network, as well as a landmark 2015 rebranding as TGS Koya Chartered Accountants. He discusses the firm's growth.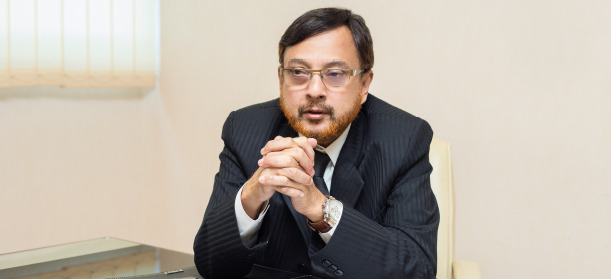 Tell me about the origins of your firm.
I started my professional practice in India in 1988 through M/s. P.P. K.K. & Associates in Calicut. We built up a reasonable presence in the region and we have a great team including one partner, based in Calicut, to handle the practice in India.
My friends had inspired me to explore opportunities in the UAE, and I started my Dubai practice in September 2005 under the name 'Caliber Middle East Chartered Accountants', with two staff members. We have now rebranded our firm as TGS Koya Chartered Accountants. I had a very humble beginning for the first three years, travelling a lot between India and the UAE, and once I was more established, I focused more on the UAE, which helped me to put the firm on the map in this region.
What effect and importance has the rebrand had for the company?
I continued my practice as a standalone firm in the region from the year 2005 to 2012. During those years, my practice grew but that came with a lot of limitations and challenges. When you are not a part of a reputed network, you can limit yourself to local work and the acceptability of it is limited, which is difficult. Another key challenge is that investment in research and training has a ceiling until you are part of a large network.
Over the last three years, since we have become part of TGS Global, we have grown faster and our reputation has significantly improved. When we talk in terms of our work at TGS Koya Chartered Accountants, the quality has significantly gone up and we are investing more in training our team to meet growing challenges in the economy.
Being part of the international network also helps us to serve large multinational companies.  The 2012 change of us becoming part of the international network, TGS Global, has helped us increase our clientele of multinationals and a lot of work is referred to us by our network.
 What is the importance of being part of an international network like TGS?
In short, it has helped our firm to make our internal systems stronger, improve our clientele, serve multinational companies and improve our acceptability in the local market.
If you ask me, 'Why TGS Global?' my first point of reference is the growth of the network since its inception. It was formed in 2012 by two firms, one from the United Kingdom and one from France, and in a very short span of time it has established itself internationally and is ranked among the top 20 international networks in the world. The network won the 'Rising Star Network Award' in 2014 organised by the International Accounting Bulletin, and by the end of 2016, it is expected to have a presence in 50 countries.
When I first interacted with the network's leadership back in 2012, I saw great enthusiasm, and I was sold on the idea of becoming a part of it. The way the network has grown in a very short span of time makes me immensely proud.
What local expertise can you bring to your international network?
Having a presence in the UAE for a decade has helped us become very familiar with local laws and regulations, as well as giving us a sharp knowledge of the market. This is the core expertise we bring to the network. We, TGS Koya Chartered Accountants, are the first member firm of the network in the Middle East, which is a great source of pride for us. Our aim is to help our network grow in the region and advise its leadership in taking the right decisions for growth in this market.
What is your main accounting advice for regional companies?
My main accounting advice for regional companies is to have a strong system of accounting and reporting, which will help  professional firms give better service, and act as strategic advisers to help companies grow their business in the region and help them enter new markets.
Regional companies can create a lot of value for themselves by seeking valuable advice from professional firms as they carry vast experience.