With over 20 years of professional experience in finance and accounting, Baasab Deyb, Partner at RSM Dahman, is very positive on the current economic outlook. What are the trends and opportunities shaping the professional scene in the months ahead?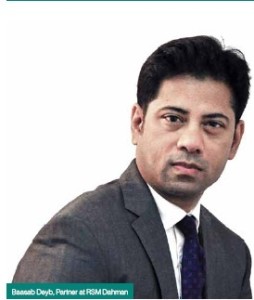 Over the last 60 days we have witnessed global commodity prices jump as much as 10 per cent with items such as sugar and coffee leading the charge. Markets around the globe seem to be surging forward. Real Estate prices in the Emirate are echoing 2008 prices and the world's biggest multinational corporations are re-visiting emering market expansion strategies. While the global economy is cultivating a new spurt of activity, the 21st Century still remains the most complex andvolatile of any in recorded history. Where the only constant is change the question is… how does onecope with this new chapter in the annuals of Middle Eastern business?
"One clear trend that has been identified by business thought leader Dr Linda Gratton, Professor of Management Practices at London Business School, is the death of the generalist and dominance of the niche specialists," affirms Baasab Deyb, a Partner at RSM Dahman."Clients don't want generic off the shelf products or services, they want a specialist who understands their businesses idiosyncratic nuances, their risks, and can add real value and insight into their current position," says Baasab.
Hospitality & Leisure
While not know ing at t he time, Baasab has serendipitously positioned himself to take advantage of these new business trends and paradigm shifts as he has specialised in Hospitalityand Leisure, one of the region's hottest markets.
In November 2013, Baasab Deb took on the role of Partner for RSM Dahman, a member of RSM International, one of the top leading audit, tax and advisory service networks, which consists of independently owned and managed professional firms. Baasab is responsible for the development of the Hospitality & Leisure services for the firmwhich is not a drastic change from his previous position as Executive Director at Ernst & Youngwhere he spent 18 years honing his skills in this segment.
"I started as an article trainee in 1990 with A.F Ferguson & Co (Representative firm of KPMGInternational) and I qualified my Chartered Accountancy from the Institute of Chartered Accountants in India (ICAI) in 1994, and then spentanother year with KPMG after qualifying. PepsiCo was an account that I was managing as a lead auditor regarding their due diligence in 1994. I was later offered a role within the firm as a regional accountant managing the eastern region for PepsiCo India. This was an exciting career opportunity working with a multinational COBO unit (Company Based Operations). What made it more interesting was that in 1994 when, Ashwarya Rai was crowned Miss World, she was the brand ambassador for Pepsi. We were running the campaign 'Have a Pepsi with Aishwarya Rai' and Igot to meet her, a memory of the good old days thatI still cherish."
In 1995, Baasab attended a campus interview for audit professionals by E&Y & KPMG that were scouting for professionals to be based in Dubai. Having always been fascinated about Dubai's Goldrush, its famous duty free and tax free haven, this was an opportunity he didn't want to miss out on.
Time Management is Key
He was soon offered a role by E&Y which was thebeginning of an 18 year relationship. Based out of the Dubai World Trade Centre office in the late 1995, a time when it was the only high rise building on Sheikh Zayed Road.
"I fell in love with Dubai the day I landed, I still remember it was at 6 am when I was checking into my hotel and spotted a Pepsi vending machine outside which was something new to me as we did not have them in India yet. I was excited to know more and explore this wonderful city. The glittering streets, the shopping malls and souks had a gravitational pull on me and I knew this citywas different. I was immediately hooked," recalls Baasab. "When I joined E&Y in late 1995 I was a newly qualified CA, and the firm had a policy that newly qualified accountants have to start at the bottom. Despite having experience under my belt, I had to start at the bottom again and earn my stripes," says Baasab. This didn't stop his hunger for growth and within four years he was promoted to Assistant Manager where he began to lead larger client engagements.
"Time management is key to my productivity.When I was with E&Y as young professional, Iwasn't really efficient at what I did, though I did come with a strong corporate experience I did not have the time management skills needed to manage multiple clients and numerous projects at once." "I was mentored by Edward Quinlan who was the MD for E&Y at the time, and very well-known personality and also the youngest professional to have been made Partner at the age of 26. Edward put tremendous emphasis on the importance of managing time well. When I see people working long hours, I wonder if they're working efficiently. Being organised and being able to prioritise are key foundation stones in any success story. Of course the real pillar to my success is my wife, who has supported me through all of this," says Baasab.
"As you confront today's increasingly complex and uncertain consultancy environment, having a mentor is more important than ever before. Whether you are new to the audit/assurance field or a mid-career professional, the benefits of being a protégé are numerous. To be successful in any field, aspiring leaders require role models and guidance."
The proverbial glass ceiling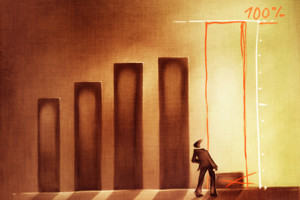 E&Y had the best mentors that I still look up to these days. People like Edward Quinlan, Mike Henderson,an ex Partner at E&Y, Joe Murphy, a Managing Partner at E&Y and Anthony O'Sullivan, a Partner at E&Y are few of my mentors that helped me add perspective and depth into decision making and further assisted with refining and developing my ideas."
While a few lucky executives enjoy a rocket fueled ride to the top, others struggle with the proverbial glass ceiling. You can't touch it, you can't see it but it's there and for many, they never get past it. Baasab hit his glass ceiling in 2010 when it just did not seem like his career was moving any more. Was it themarket, was it the environment or did he just needa change? "We all have blind spots when it comes to our own performance and personal conduct. Being unawareof how your actions affect others can keep you from accomplishing your goals. I had to take a deep look at my performance, my experience to date and decide where I wanted to go from here. It became obvious that my biggest value contribution is in the Hospitality and Leisure segment and so when RSM approached me with the opportunity to lead the segment for them it made sense to me as the next logical step in my career," says Baasab.
Real buzz in the market
Speaking about the future of Dubai, Baasab paints a rosy picture of Emirate, which recently won the bid to host the world's trade fair in 2020. "World Expo 2020 is not simply an exhibition," he says. "It is much more than that. What differentiates it from the hundreds of other exhibitions around the world is that it is an international event. World Expo also attracts tourists to the host cities and in this case Dubai. It is estimated that the fair would attract over 25 million people travelling into the Emirate. Aside from spending money to fly in to the country, they also dine, stay at the hotels and shop." "The Hospitality and Leisure industry, in my humble opinion will benefit the most. There is a real buzz in the market about the effect that this mega event will have on Dubai and the UAE and even some neighboring nations. Dubai will also continue to develop its world class infrastructure through real estate development, public transportation and new municipality projects. So I think there will be winners in all sectors," says Basaab.
"With the development of the Emirate, comes the development of its professionals. The next generation of accountants are now being home grown in Dubai, and therefore we are poised for a century that will soon be led by Generation Y, or to put it simply, a generation which grew up with the internet."
Despite the vast differences between the generations, Basaab still feels the fundamentals todeveloping as a professional will stay unchanged."The core to making it in this field is developing the right set of capabilities, so get a mentor andwork hard under them. You also need to know how to communicate and how to present to senior stakeholders. Succeeding in this business is not just about solid expertise — it's about gaining great judgment, strong insight, and gaining the realconfidence of clients through industryexpertise," says Basaab. After two decades in hospitality and leisure, Basaab is well positioned to practice what he preaches.