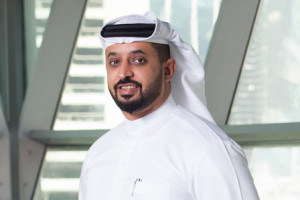 The Dubai Multi Commodities Centre (DMCC) has rapidly become established as one of the leading dedicated trade hubs in the GCC, fulfilling the vision of its Executive Chairman, Ahmed Bin Sulayem – as well as having true 'landmark' status with its home in Almas Tower, one of the 10 highest buildings in the GCC. In an exclusive interview with Shane Phillips for Accountant ME, we learn more about the vision that is now set on ever-bigger achievements…
When asking Ahmed Bin Sulayem, Executive Chairman of DMCC, about how confident he is he can deliver the world's largest commercial tower – which has been named "Burj 2020" – he says "I am 100 times more confident about building this tower than I was about building Almas tower.  When we started Almas Tower in 2004/2005 no one wanted to finance us.  We were a free zone tower and the banks at the time were lukewarm on how DMCC was going to do.  Back then we only had 400 members and our revenue model was not proven, whereas today we have 8,000 members. Furthermore, our other businesses have matured, making DMCC a unique global eco-system for commodities.
 "When we built Almas Tower we created a Gold Sukuk that you could redeem in cash or gold, and we raised $200 million.  That was the second government bond to get an A rating by S&P.  So that was a big win and to be fair, it was not easy.  A lot of people had doubts that Almas Tower was going to be a success, but the results were quite the opposite.  So we have gone through the process a few times already with all the towers we have built and we know how to approach the issues at hand.  Now we have a track record, we have a history, we are the fastest growing free zone in the United Arab Emirates and people want to invest in us.  That was not the story in 2004."
 Breaking records
"Today we are not just doing well but we are breaking records.  In 2004 to 2005 gold trade through Dubai was about US$10 billion and today we are looking at over US$70 billion in gold traded. We also went from US$5 or US$6 million in diamond trading in 2003 to today, when we are ranked in the top three largest diamond traders in the world.  In tea trading we were not even on the map, and today, we are the world's largest re-exporter of tea.  So in terms of financing the Burj 2020 we are very confident" says Ahmed Bin Sulayem.
 "The Burj 2020 is already attracting a lot of attention with a few big MNCs vying for 20 to 30 floors at a time.  Once we announced that it was going to be the tallest Commercial Tower in the world, our financing costs went down and everyone's interest in the project increased.  So yes, I am 100 times more confident about this tower than any other tower DMCC has ever made in its history.  We have had positive responses from a range of partners, including providers of steel and insurance providers, who are quite willing to underwrite the entire risk given DMCC's track record. We have only had positive responses from all parties.
 "We are talking to a company who did the Olympic city for the London.  I like them as they put a real emphasis on health and safety in their projects.  They built the entire Olympic City without the loss of one life.  I think it is very important to work with ethical operators and to continue to ensure that Dubai is a benchmark for professionalism and ethical business in this region of the world."  
 No Finance No Romance
As Ahmed embarks on what will not only be a landmark moment for DMCC but a milestone for the Emirate of Dubai one cannot ignore the significance that his financial team will play in the success of Burj 2020.  I asked Ahmed what does he look for in his CFO and Financial Team and he said "There are two types of CFOs, there is the one who sticks to his job description and then there is the one who goes beyond.  We at DMCC look for the professional who will go beyond.  I see the CFO as the gatekeeper, if a project does not add up it is him or her who needs to shut it down or stop it before it starts.  With the size of projects we are doing at DMCC we don't need a rubber stamp CFO."
 Ahmed is focused on creating a management team which challenges each other, and the CFO especially should be the one asking the toughest questions and pushing the team to ensure due diligence has been executed to the highest standard.  "Attitude is a small thing that makes a big difference.  Many people think that it is vision and strategy that help catapult the CFO into a CEO, but that is not enough.  They need to have passion, they need a fire in the belly, they need to really love the brand and want to push DMCC to the next level.  In my opinion that is where the edge is.  If you have that type of fire, that kind of passion then you will do whatever it takes to get the skills you need to make that contribution to the team" says Ahmed.
 "Those may be strategic skills, maybe it is communication skills or your ability to create consensus, or maybe it is leadership; what ever it is, your skill set as a CFO is secondary to your attitude and to the spirit of your work.  Just look at Dubai, the skill set necessary for the achievement of the vision of the Late Sheikh  Rashid is secondary to the spirit, passion and dedication of the people executing it."
 "When Sheikh Rashid opened Jebel Ali port many of the Emiratis in town hated the port.  They did not want the port, in fact my Father, Sultan Bin Sulayem worked there and was reporting to the individual who was running it, and he was in shock when his boss would say "Bury this port, it is useless!" Today our port business is one of the jewels in the crown of Dubai.  We did not know anything about running ports when we started but today Dubai Ports is ranked in the top 5 if not top 3 largest port operators in the world.  It is the vision and passion that got us there.  This is the same for anyone's career, it is not how good you are, it's how good do you want to be and how hard are you willing to work for it."
 "So to get back to my point about what makes a good CFO, it is not your skill set.  Yes your skill set has to be there but I can show you a hundred highly qualified CFOs who I would not work with if you paid me, because they don't believe in the vision of His Highness Sheikh Mohammed and they are simply not willing to do what it takes to climb this mountain."
 Sibling Rivalry
With Dubai sprouting 180 stories plus towers  on each side of town and  with accolades in its trophy chest such as the world's largest mall, the world's largest airport, the world's first 7 star hotel, and so on; one cannot but help to wonder if there is still a rivalry between the two Emirates of Dubai and Abu Dhabi.  Ahmed had a very interesting take on the relationship.  He says "first of all it is not true that Abu Dhabi and Dubai are in competition.  Abu Dhabi is 88% of the land mass of the UAE and to think that their only benchmark is our Emirate is the wisdom of a fool.  Abu Dhabi has an agenda which is flush with global ambitions, their benchmarks are cities such as Hong Kong, Singapore, and so on.  So their focus has nothing to do with Dubai.  To an outsider perhaps it may look like Dubai is racing with Abu Dhabi but this is only an illusion as the truth is, we are almost out of oil and we have to diversify; its diversify or die for Dubai.  That is not the case for Abu Dhabi, they have robust oil reserves and they can afford to move at a different pace." 
 "I would not underestimate the Arab businessman as we are not interested in a national race, we are in a global one.  Success has no nationality, just as commodities have no nationality.  We service the world and we are focused on competing on the global stage against the biggest multi-nationals and most successful economies of our time.  Abu Dhabi  have their sights set on much higher and loftier targets, just as Dubai do.  No one cares about being the biggest or the best in the UAE, we want to be regionally and globally recognized for our efforts.  We want to be the best in the world."
 "To give you some real inside information I would have to tell you that making global waves or competing with the best of the best is not what really lights the fire of His Highness Sheikh Mohammed.  What really gets him going is when you tell him you can't do something.  As soon as someone tells him that you can't do it, he will do it just to prove them wrong.  And by the way he succeeds every time" says Ahmed. 
 As an expatriate one could not agree with Ahmed more as Dubai is a city where the impossible becomes possible.  It is rumoured that you can go to almost any country in the world, and travel to any backwater village, and the villagers there may not have a TV or any education, but they will know about Dubai and where it is on the map.  How many people can say that about their home town?  The question that remains however is what is it that makes a person move from ordinary to extraordinary?  What are the traits required to become the best in the world?
"To be successful I think the most important thing is knowing how to prioritize.  Knowing what order to do things in and where to put them.  This is one very important skill set.  The other is knowing your limitations and not over extending yourself.  You have to know what you can deliver.  Thirdly I think you need to be agile and you need to be able to develop new skills and new competencies as the market moves and morphs into new dynamics."
 "For example during our first five years of DMCC  the media were very unkind and in essence we were defenceless.  We were at the mercy of the writerspen, but not anymore.  We are very active on social media on Twitter, Linkedin, What's Up, Facebook and so on.  We also write several columns ourself, so our story, our perspective gets heard.  We are launching DMCC TV where all our tenants will have a chance to participate in creating the voice of DMCC.  Why listen to traditional media when you can hear it direct from the horse's mouth.  Now even the top news agencies are quoting twitter and are often reporting "this is what the twitter community is saying".  So moving forward we are increasing our digital and social media footprint and will ensure our version of the story is told."
 "So in closing, whether you want to be a successful Chief Financial Officer, successful business or nation, you firstly need the right attitude, the passion to make you go above and beyond, you need to be focused on what your priorities are and finally you need to be agile and able to adapt to the changes the 21st Century is bringing to us.  I like to say 'don't look at how challenging the opportunity is but rather look for the opportunity in the challenge', says Ahmed" 
 Ahmed Bin Sulayem is focused on delivering the world's largest commercial tower which is set to be completed by 2020 and is aptly named the Burj 2020.  A fitting tribute to his view that: "it is not how good you are" that is important, but rather, "how good do you want to be?" That is the real question.