A record one billion smartphones will be shipped in 2013, Deloitte TMT predictions for 2013 show…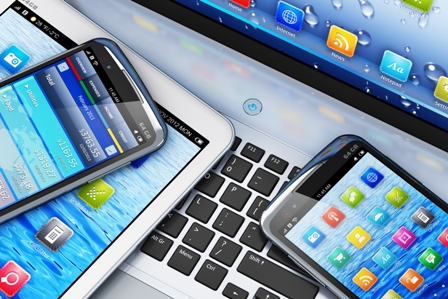 THE DELOITTE Technology, Media and Telecommunications (TMT) Predictions 2013 report was launched at Dubai Media City, revealing the emerging issues that will impact the TMT industry in the coming year.
The report, now in its 12th year, is compiled through a series of interviews with Deloitte clients and practitioners. Of the most notable findings were that a record one billion smartphones will be shipped in 2013; mobile advertising will get split into two categories— tablets and smartphones— and more than 90 per cent of user-generated passwords will be vulnerable to hacking in a matter of seconds.
Thriving business community
The Deloitte TMT Predictions 2013 were launched in collaboration with Dubai Media City, as a stride towards promoting the media industry and thought leadership. Dubai Media City has grown to become a thriving business community that is home to leading international and regional brands, creating a business environment that encourages expansion and growth of business.
"This is the first time Deloitte is presenting a Middle East version of the TMT predictions, directly relevant to the region," said Santino Saguto, partner and TMT Leader, Deloitte Middle East.
"We believe it is vital for our local clients and industry practitioners to understand the drivers that are shaping this sector across the region. Hence, these 10 TMT predictions have been formulated to highlight where we are heading."
End-game strategies
Of the hot topics in the TMT predictions, particularly relevant for the region include an upsurge in momentum behind Long Term Evolution (LTE) mobile networks across the GCC, which experts say will need to be combined with a better understanding of end-game strategies from the new technology. In addition, leading operators across the region are likely to devote greater effort towards managing data profitability.
The Deloitte TMT Predictions report also points to advertisers who are expected to navigate in a rapidly growing digital space, with mobile advertising emerging as a major beneficiary.
"I am pleased that Dubai Media City is able to support the launch of Deloitte's Middle East TMT Predictions 2013. As a thriving community that has become home to many global, regional, and local media organisations, it is our duty to support research and study into the future of our sector. Identifying the key trends that will shape our industry over the near, mid and long term," said Mohammad Abdullah, Managing Director, TECOM Investments Media Cluster.
"This report's findings contain many valuable insights that will be able to serve as a guide to many operators whether they are in advertising, technology, broadcast production, or content development."
"This year's predictions cover a range of topics, from the continued dominance of personal computers (PCs) despite inferior sales relative to smart devices, the developments around LTE, and data access, to smartphones and the vulnerability of passwords," said Paul Lee, Director, Deloitte TMT Knowledge & Research.
"With the splitting of 'mobile' advertising into separate mobile and tablet categories, advertisers should begin to consider new forms of advertising specific to smartphones, such as interactive videos or game functionality, and tablets meanwhile, may borrow content created for PCs as well as usage formerly undertaken on PCs."
Cheaper tablet models
Additionally in 2013, the smartphone sector may globally generate $4.9 billion in revenues in 2013, while advertising on tablets may generate $3.4 billion. Revenue per unit however reveals a different dynamic: smartphone display ad revenues are forecast at $7 per tablet and $0.60 per smartphone (including in-app ads).
In the Middle East and Africa (MEA) the tablet market grew by 90% year on year – reaching a total of 1.36 million units for the fourth quarter of 2012. This surge is the result of a number of factors, including the introduction of cheaper tablet models, reduced prices by vendors, and overall rising consumer demand for these devices.
There will also be an upsurge in momentum behind LTE, with 2013 being the first year in which LTE thrives across multiple markets. The subscriber base will triple to 200 million by year end, and those on LTE tariffs will represent about 10 per cent of all service revenues. Usage of LTE will be evolutionary rather than revolutionary: the major benefits of subscribing to LTE from 3G are likely to be better performance from existing applications from e-mail to updating social networks.
Additional highlights of this year's TMT predictions to impact the Middle East marketplace in 2013 include:
"Mobile advertising" thrives, led by tablets, but smartphone display lags — "Mobile" advertising — a category including tablets, smartphones and feature phones —should grow by 50 per cent to reach $9-billion globally. In the Middle East, Deloitte predicts that digital ad spend will grow at a CAGR of 35% in the region over the period from 2011 to 2015 reaching approximately 10% of the total advertising spend by 2015. These estimates are conservative when viewed in the context of markets such as the UK, where the shares of the digital platform in total ad spend stood at 32% in 2011.
A billion smartphones should ship for the first time ever — Usage, however, will become increasingly varied, with a growing number of smartphones owners (about 400 million out of an installed base of 1.9 billion by year –end) rarely or never connected their devices to data. In 2012, around 40 million smartphones were shipped in the Middle East, representing a growth of more than 30% over 2011 shipments. More significantly, smartphone penetration across several key markets is already in excess of 50%.
A strong year for LTE, but end-game strategies of regional operators are as yet unclear— Several LTE launches expected across the region in 2013, however operators would need to have a clearly though out value proposition for LTE.
Dual screening readies for prime time – Evidence of ownership of multiple screens in the region but television remains the predominant screen for viewing video content.
PC is not dead, it's about usage and not units –  PC sales to end-users will continue to remain strong and drive a significant portion of internet traffic.
The looming spectrum shortage : Spectrum harmonisation and re-farming critical to growth.
Over-the –top may lift broadcasters and distributors more than pure plays – Several OTT models prevalent in the Middle East but broadcasters are likely to emerge as the most likely winners.