KPMG in the UAE holds client workshop on 'Working Capital Challenges' and 'Joint Ventures'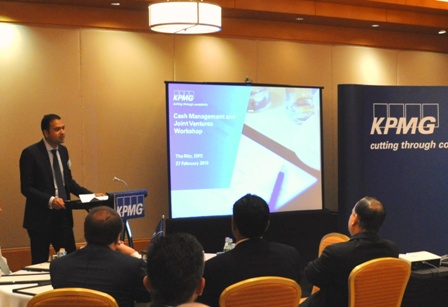 KPMG IN the UAE recently held a Cash, Working Capital and Joint Venture workshop at the Ritz Carlton, Dubai International Financial Centre (DIFC).
KPMG IN the UAE recently held a Cash, Working Capital and Joint Venture workshop at the Ritz Carlton, Dubai International Financial Centre (DIFC).
Cash has been the key driver of economic recovery in the region following the 2008 crisis. Since then companies have been looking at ways to manage their working capital to ensure they have sufficient liquidity to trade through the economic cycles and to minimise their cost of funding.
The workshop was tailored to Private Equity firms with large portfolios as well as larger conglomerates with multiple subsidiaries and divisions. It dealt with a number of key specific issues and developments that are increasingly relevant to the current market. The key themes included managing businesses where growth isn't converting into more cash, companies in distress with poor or negative cash generation and companies with diverse complex working capital circumstances.
Mark Raddan, KPMG's UK Head of Working Capital and Cash Management discussed a number of options for identifying the issues early on as well as tools to assist companies in managing these in a systematic manner were debated by the participants. Key themes included having a structured process for managing cash, the embedding of a cash management culture in the organisation as well as ensuring detailed concise metrics that can monitor and assist management in managing their working capital in a proactive manner.
In addition, the workshop dealt with the complex issues facing companies that enter into Joint Ventures. These included understanding the key risks inherent in first agreeing and thereafter operating Joint Ventures.  This session was led by Marc van Grondelle, KPMG's Global Head of Joint Ventures and included a discussion on best practices when entering into Joint Ventures and also touched upon enhancing, refreshing and rescuing underperforming Joint Ventures.
Distressed cash was another topic that generated a lot of interest which was presented by Keith Buck, UAE Head of Cash Management services who highlighted that businesses need to have robust forecasting processes, tightened cash controls and potentially avoid falling into a spiral of negative cash flows and potential covenant breaches on loans and eventually leading to cash crises that can make business insolvent if not dealt with decisively and quickly.
Vikas Papriwal, Co-Head of Transactions & Restructuring and Head of Sovereign Wealth Funds and Private Equity for KPMG UAE and Oman said "Over the past four years we have seen significant changes in the way businesses are run both globally and regionally.  A number of these changes are now the new norm as business models, which were successful in the good times, have had to reset post the global financial crisis. Managing cash efficiently and optimising working capital is no longer a luxury but rather an absolute imperative for businesses today.
Abdul Wahab Al Halabi, Co-Head of Transactions & Restructuring and Head of family groups for KPMG UAE Said "While joint ventures have the potential to create great value, from our experience 80% of them break down and fail to deliver value. This is primarily caused by unrealistic JVA 's and ineffective governance. Corporates in the region, particularly family groups, are increasingly looking towards joint venture opportunities as a way of maximizing value. We believe more time needs to be spent before an agreement is signed to ensure parties are aware of their role and what they are expected to bring to the table."