Phoenix Financial Training's Founder and Managing Director – and CFO Middle East advisory panel member – David Thomasson proudly reflects on his firm's third annual graduation ceremony.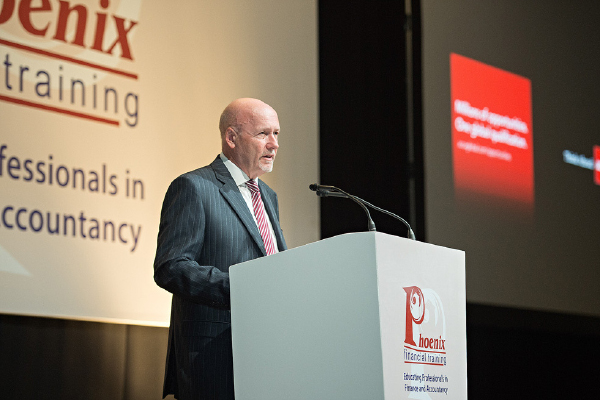 Over the years at Phoenix, we have helped thousands of students realise their dream of achieving a professional finance qualification. We have always been very close to our students and have always known how important this success is to them. However, in recent years this has been brought home to us even more as we introduced our annual PFT Graduation event.
On 14th December 2015 we held our third annual graduation for successful ACCA candidates. We have always strived to ensure that the guest list is as inclusive as possible by allowing graduates to bring along family and friends. We therefore see all age ranges at the ceremony, and it is truly humbling for us to understand just how important this achievement is to the whole family – this is especially true in this region where the personal and financial sacrifices of parents and siblings facilitate the success of our graduates.
After welcoming everyone to Dubai World Trade Centre's Multaqa Ballroom, it was my pleasure to hand over the platform to three of our leading tutors – Preethy, Nikhil and Zainab – who all explained their different personal and professional journeys. These spanned different countries, but for all three of them, the integrity, knowledge and professionalism of their qualification has underpinned the flexibility which has facilitated their career path, in their case culminating in a career in teaching rather than as a CFO.
Kindly supported by Stuart Dunlop, MENASA regional director for the ACCA, we presented certificates to our two hundred 2015 graduates. In addition, it was my pleasure to present awards for outstanding achievement to Prachi Mehta, Ramkumar Raman and Eman Al Suwaidi. After being awarded many exemptions, Prachi qualified as an ACCA and is currently building a successful career here in Dubai with Deloitte whilst also studying for her ICAEW exams. Eman is one of our growing number of Emirati affiliates and works for the UAE State Audit Institute, while Ramkumar – the youngest ACCA qualified accountant in the region – is looking to pursue his education further in the USA before embarking on a career in banking.
It is wonderful to see the professionalism and drive of our people as they proceed through their qualification. Some are yet to commence their careers. We spend a lot of time at Phoenix working with them to develop job and internship opportunities, but many have already progressed – and number of local CFOs are recent graduates of ours. As I have often said, the UAE needs world-class professionals to underpin the ongoing development of world-class businesses. As I look at these young people, I am proud to see that we are playing our part by providing what I am sure will be many talented CFOs of the future.