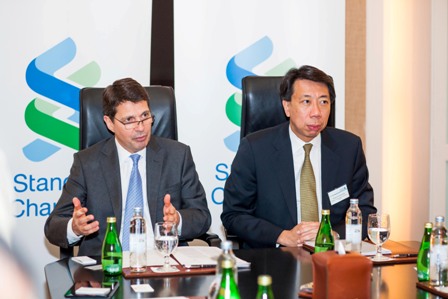 STANDARD CHARTERED recently held a joint seminar with the Hong Kong Monetary Authority (HKMA), to share with participants the latest views and insights on the Renminbi (RMB) and its developments.
Titled 'The Renminbi: What's your next move?',the event was an interactive platform for sharing expertise and knowledge about how the RMB is affecting global and regional trade and Hong Kong's latest offering as a key offshore RMB hub.
Trade flows between the Middle East North Africa (Mena) region and China are on the rise, and a mounting number of corporate are opting for settling trade in the RMB to reduce costs and enhance efficiency of the trade process.
"In the UAE, Standard Chartered has been at the forefront of supporting the increasing needs of our Corporate, SME and Financial Institutions clients with links to China," said Jonathan Morris, CEO, Standard Chartered UAE (pictured left.)
"Over the past few years, we have seen very encouraging development in the offshore RMB business, including mounting RMB-denominated trade settlement, rising dim sum bond issuance and an increasingly liquid CNH market," added Ben Hung, CEO, Standard Chartered Hong Kong (pictured right).