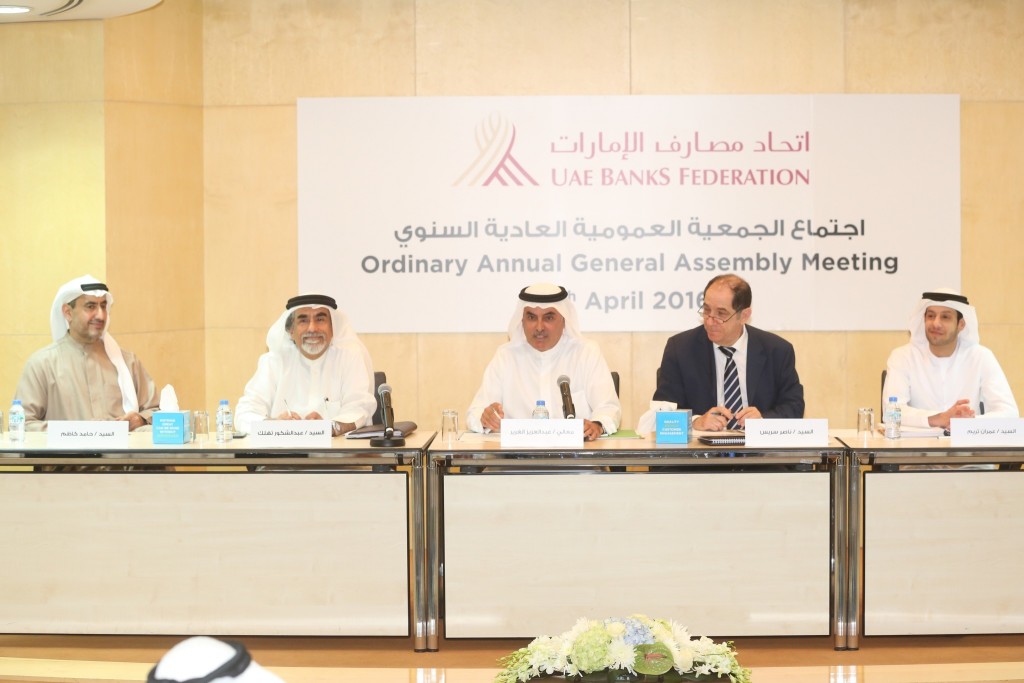 The UAE Banks Federation held its Ordinary Annual General Assembly Meeting at the Head Office of the Commercial Bank of Dubai.
The meeting, chaired by HE AbdulAziz Al Ghurair, Chairman of the UAE Banks Federation, was attended by Federation Board members and representatives of member banks.
During the meeting, members reviewed UBF main activities and key achievements of last year. Followed by the ratification of the Federation's business plan for 2016, which aims to boost coordination and consultation with the Central Bank and other shareholders on issues related to the banking sector. Also, members have discussed and approved the Financial Statements, Auditors' report for 2015 and budget for 2016.
Members also voted for the UBF's new Board of Directors for the next three years. H.E AbdulAziz Al Ghurair, CEO of Mashreq Bank, H.E. Sultan Nasser Al Suwaidi, Ex-Governor of the UAE Central Bank and Deputy Chairman of NBAD, H.E. Mohammad Omran Al Shamsi, Chairman of RAK Bank; Mr. Omran Abdalla Taryam, Chairman of Invest Bank; Dr. Sulaiman Mousa Al Jassim, Board Member, NBF; Mr. Amr Saad Al Menhali, EVP, Head of Islamic Banking, ADCB; Mr. Hamed Kazim, Board Member, CBD; Mr. Abdulla Qassem, Group Chief Operating Officer, ENBD; Mr. Abdullah Zeid Al Shehi, Head of International Expansion, ADIB, were elected as the new board.
HE Al Ghurair said, "2015 was a successful and productive year for us. Our Committees worked on different initiatives during 2015, and we formed new partnerships with different local and international entities to better support and enhance the banking sector in the UAE. We have also increased the number of our committees such as Marketing, Audit, IT, Fraud prevention, Operations, Digital Banking and information security committee, to better serve and protect banking customers. Today, a new Board of Directors was elected. I would like to welcome the new members, and thank those who left us for all their work in the past couple of years."