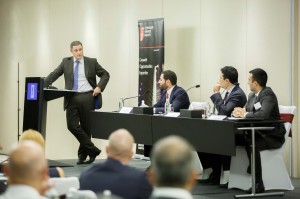 According to the ICAEW, the recent decision by the MSCI Global Equities Index to upgrade its classification of both the UAE and Qatar from Frontier to Emerging Market status will likely result in more stability and greater investment.
ICAEW members and guests gathered at the JW Marriot Marquis in Dubai last week to discuss the impact of the June 14th decision on local capital markets. The closed event, sponsored by Merrill DataSite and eFinancialCareers, was moderated by Steve Drake, Partner in PwC and Head of Capital Markets. Steve led a panel discussion with Fahd Iqbal, Head of Middle East Research for Credit Suisse; Salah Shamma, co-head of MENA Equity for Franklin Templeton Investments; and Mayur Pau, Partner and IPO leader of EY Middle East.
Following the introduction by Sanjay Vig, MD at Alpen Capital and Dubai Chairman of ICAEW Corporate Finance Faculty, to members of Michael Armstrong FCA, the new Regional Director of the now expanded Middle East, Africa and South Asia region of ICAEW, panellists and invited guests were asked whether the impact of the MSCI upgrade was a game changer for the region's capital markets or a false dawn.
Overall the  audience and panellists agreed the MSCI reclassification had the potential to be a 'game changer' given the market conditions, positive impact of infrastructure development and the ongoing prioritisation by the UAE and Qatar governments to improve regulations and corporate governance.
Panellists cited the historically low number of listed entities in this region for attracting only a limited pool of investors. Being part of the emerging market universe would encourage more companies to seek an IPO which would strengthen the breadth and depth of the investor base, leading to improved liquidity in the market.
Integration of this region into global capital markets would also help reduce market volatility and encourage more non-oil related investment. Growing confidence in the region is likely to attract more overseas investors from the institutional community, which will have a positive impact on market stability.
Event attendees also agreed that government initiatives to tighten regulations and advances corporate governance had contributed significantly the recent MSCI market upgrade.
The audience and panellists also felt that both Expo 2020 and Qatar 2022 World Cup would have a major positive impact on financial and business infrastructure. In addition, the anticipated market attention the events will garner over the next eight years is expected to boost investor sentiment and investment inflows to the region.
The panel also agreed that IPOs could be seen as a potential route for family businesses looking to grow, expand and plan leadership succession.
The event was attended by almost 100 ICAEW members and guests who represent the major global organisations and SMEs which make up the UAE's and Qatar's corporate community.