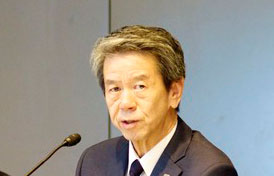 Top executives, including the company's president, at electronics and industrial giant Toshiba resigned on Tuesday, July 21st after a committee reviewing its earnings said the company padded its operating profit by about $1.25 billion over six years to the end of 2014.
Leaders at the company, which makes everything from vacuum cleaners to nuclear power plant equipment, were part of a "systematic" effort to embellish the earnings, according to the report by the independent committee, which Toshiba commissioned in May. The sum includes about ¥4.4 billion of incorrect earnings discovered in an internal probe by Toshiba.
President Hisao Tanaka apologised to a packed news conference at Toshiba headquarters in Tokyo, after the announcement of his resignation. During his speech Tanaka said that he fully recognises the serious damage that the scandal has caused to Toshiba's image in their 140-year history.
"We take what the committee has pointed out very seriously, and it is I and others in management who bear responsibility," added Tanaka.
Tanaka, will be succeeded by Chairman Masashi Muromachi. Toshiba said former presidents Norio Sasaki and Atsutoshi Nishida would also step down from executive positions to take responsibility for the accounting irregularities.
The firm said it would correct its earnings reports in light of the findings by the outside panel, which was scheduled to hold its own briefing.
"A corporate culture existed at Toshiba in which superiors' wishes could not be defied," states the report by the committee, which was led by a former Tokyo prosecutor.
It adds that the company president and subordinates "continuously implemented inappropriate accounting practices" to achieve top executives' earnings goals, which were dubbed "challenges."
The scandal is the biggest accounting fraud to rock corporate Japan in years and comes less than two months after Japan introduced new corporate governance rules to attract more foreign investment. The rules call for listed companies to have independent outside directors.