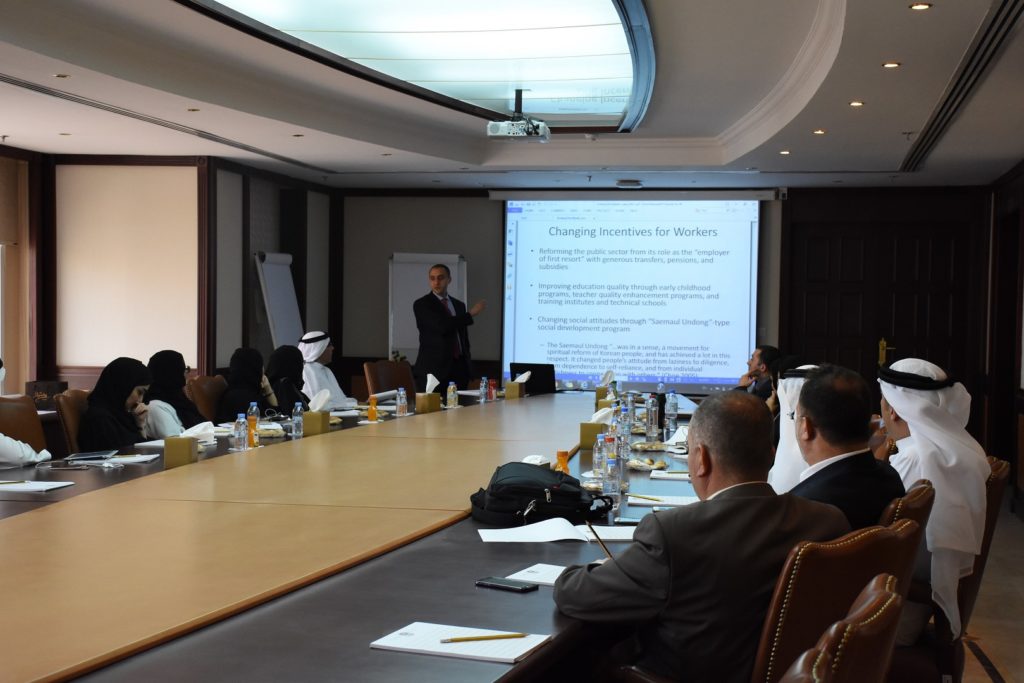 As part of its strategy to support economic diversification and introduce its positive impact on different economic and development sectors in UAE; the Ministry of Finance (MoF), organised a workshop to discuss the book titled "Breaking the Oil Spell – The Gulf Falcon's Path to Diversification", in its premises in Dubai. The book was launched last April on the sidelines of the spring meetings for the International Monetary Fund (IMF) and the World Bank Group (WBG) in Washington DC.
The workshop was attended by HE Khalid Ali Al Bustani, Assistant Undersecretary of International Financial Relations Sector at MoF, HE Saeed Rashid Al Yateem, Assistant Undersecretary of Resources and Budget Sector and number of heads of departments, experts and consultants; and included presentations from the authors of the book, Fuad Hasanov, an Economist at the IMF and Adjunct Professor of Economics at Georgetown University; and Reda Cherif an Economist at IMF Institute for Capacity Development.
Commenting on the workshop, HE Younis Haji Al Khoori, Undersecretary of
MoF, said: "Due to the wise leaderships' strategy to develop prudent financial policies and sound economic methodology, the UAE continues its exceptional journey to achieve strong growth."
Reda Cherif said: "Achieving economic diversification requires governments to enhance institution's framework, develop infrastructure, reduce regulatory barriers, and change incentives to enhance private and public companies' ability to overcome limits of domestic markets. All governments should also support exports, establish development banks that provide funding and support for the business sector."
Fuad Hasanov said: "Our gratitude goes to the Ministry of Finance for offering us the opportunity to present the book that analyses the economic changes in the world and the Middle East and its impact on the effectiveness of economic diversification strategies. We also appreciate the Ministry's commitment to cope with the changes and adopt suitable solutions to enhance UAE's economy as well as maintain international standards."
The workshop discussed the economic situation in which oil is no longer the main source of government financial resources, and the economic outlook witnessed by oil-exporting countries. There will be an effective change in the current economic model if planning and government financial resources were based on innovation and the implementation of economic diversification policies. The workshop also reviewed the experience of countries such as Brazil, Malaysia and Singapore which have made major strides in economic diversification.