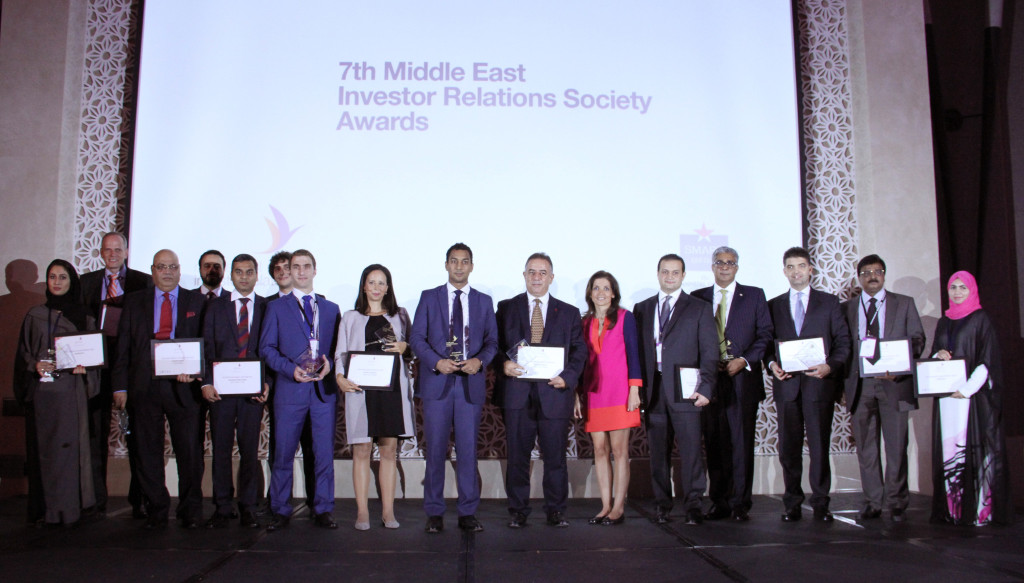 During a gala ceremony held at The Address Dubai Mall recently, the 2015 winners of the Middle East Investor Relations Society (MEIRS) Awards were announced.
Marking its seventh year, the awards continue to honour the outstanding achievements of Investor Relations (IR) professionals and organisations in the Middle East. The Awards were celebrated during the 7th MEIRS Annual Conference, an event dedicated to IR professionals in the region.
Four regional awards and two country-specific awards were presented to highlight the continuous efforts of professionals and organisations in developing IR standards in the region.
"The Middle East Investor Relations Awards celebrate one of our key mandates – to promote best practice in the IR industry. The awards are a reflection of the changes in the IR environment in the region, and the award winners and candidates are a testimony of the effort in our community to achieve excellence in investor relations. I would like to thank everyone who was nominated for their efforts in advancing IR practices in the region, and to congratulate the winners for demonstrating IR excellence." said Oliver Schutzmann, Chairman, Middle East Investor Relations Society.
The winners for the 2015 MEIRS Awards are:
Grand Prix – Leading Corporate for Investor Relations – Middle East: DP World
Best Investor Relations by CEO – Middle East: Mohammed Sharaf, DP World
Best Investor Relations by CFO – Middle East: Karim Karoui, FGB
Best Annual Report – Middle East:
Number 1: DP World
Number 2: Abu Dhabi Commercial Bank
Number 3: National Bank of Abu Dhabi
Best Investor Relations Website – Middle East:
Number 1: SHUAA Capital
Number 2: DP World
Number 3: Abu Dhabi Commercial Bank
Best Corporate for Investor Relations
Bahrain: Ahli United Bank
Egypt: Eastern Co
Kuwait: National Bank of Kuwait
Levant: Bank Audi
Oman: Omantel
Qatar: Ooredoo
Saudi Arabia: Bupa Arabia
UAE: DP World
Palestine: Banque of Palestine
Best Investor Relations Professional
Bahrain: Eline Hilal, Aluminium Bahrain
Egypt: Yasmine Hemeda, Commercial International Bank
Kuwait: Amir Hanna, National Bank of Kuwait
Levant: Alexandre Mouradian, BLOM Bank
Oman: Menon Gopinath, Omantel
Qatar: Andreas Goldau, Ooredoo
Saudi Arabia: Ahsan Kamal, Riyad Bank
UAE: Sofia El Boury, FGB
Palestine: Raya Yusuf-Sbitany, Banque of Palestine