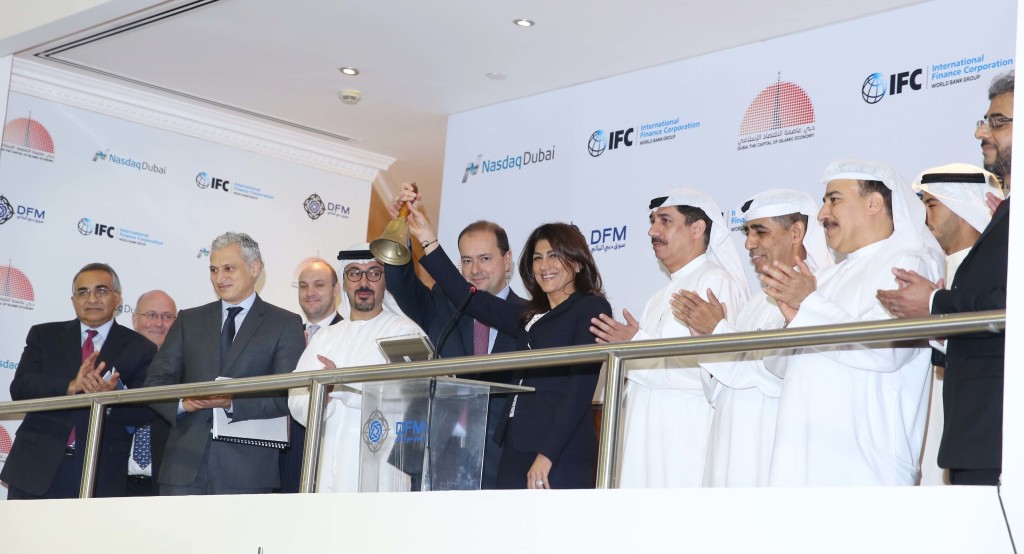 Bahar Alsharif, Deputy Treasurer of International Finance Corporation (IFC), a member of the World Bank Group, recently to celebrated the listing of a $100 million Sukuk (Islamic bond) on Nasdaq Dubai.
IFC's Sukuk is listed solely on Nasdaq Dubai. It has raised the total nominal value of Sukuk currently listed in Dubai to $ 36.8 billion, strengthening the Emirate's position as the largest centre in the world for Islamic bond listings. More than a third of this total, amounting to $12.75 billion, has listed on Nasdaq Dubai in 2015.
The bell-ringing ceremony was attended by His Excellency Essa Kazim, Governor of Dubai International Financial Centre (DIFC), Secretary General of Dubai Islamic Economy Development Centre (DIEDC), and Chairman of Dubai Financial Market (DFM); Abdul Wahed Al Fahim, Chairman of Nasdaq Dubai; Hamed Ali, Chief Executive of Nasdaq Dubai; Dimitris Tsitsiragos, Vice President of Global Client Services of IFC; and Mouayed Makhlouf, IFC Director for Middle East and North Africa.
Bahar Alsharif, IFC Deputy Treasurer, said, "This issuance will help meet the funding needs of our private-sector clients in the Middle East and globally. As a premium global issuer, IFC is also keen to offer international and regional investors high-quality alternatives in Islamic financial markets."
HE Essa Kazim, Governor of DIFC, Secretary General of DIEDC and Chairman of DFM, said, "Dubai is delighted to provide a listing venue for IFC and support its beneficial development activities. The listing underlines the Emirate's status as the leading centre in the world for Sukuk listings and its growth as the global Capital of Islamic Economy, under the initiative launched in 2013 by His Highness Sheikh Mohammed Bin Rashid Al Maktoum, UAE Vice President and Prime Minster, and Ruler of Dubai."
The Sukuk is the second to be listed by IFC on Nasdaq Dubai, following a 100 million US dollar Sukuk that listed in 2009. Through its latest Sukuk, IFC will support developmental financing activities in the Middle East and North Africa and other parts of the world.