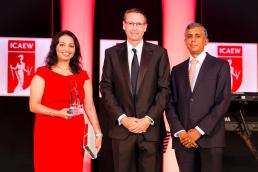 Dunia Finance has received the award for Excellence in Financial Reporting at the fourth annual ICAEW Middle East Accountancy & Finance Excellence Awards 2014.
The award recognises an organisation whose annual report and accounts demonstrate clear and balanced content, which is presented in a creative and consistent manner.
The awards ceremony took place at Jumeirah Beach Hotel in Dubai under the patronage of HE Sheikh Nahyan bin Mubarak Al Nahyan, Minister of Culture, Youth and Community Development for UAE. Organised by the Institute of Chartered Accountants in England and Wales, ICAEW, the gala event is the only dedicated awards programme for accountancy and finance professionals in the region.
Commenting on Dunia's award win, Rajeev Kakar, Managing Director &CEO of Dunia, said: "We are delighted to announce that our annual report and transparency of reportinghas been recognised for such a prestigious award. Here at dunia, we have a passion to excel and strive for excellence in all that we do, upholdingour reputation with pride. We will continue to conduct our business with all stakeholders, customers and regulators with the highest ethical standards and transparency."
Accolades were awarded in 11 categories and winners were selected by a judging panel chaired by Edward Quinlan, retired EY UAE Country Partner and comprising nine of the region's most respected industry professionals: Mark Beer, OBE, Registrar at DIFC Courts and Former CEO & Chairman of the British Business Group for Dubai & Northern Emirates; Steven Ralls, Senior Principal, Financial Audit & Examination, Abu Dhabi Accountability Authority; Matthew Gribble, Senior Managing Director, Middle East & Africa, PageGroup; Umar Saleem, CFO, DEPA; Dr. Hadi Shahid, Founder and Managing Partner of Alliott Hadi Shahid; Bashir Siman, UKTI Sepcial Representative to the UAE for Financial Services; Surya Subramanian, Group CFO, Emirates NBD; Dr Jeannette Vinke, Senior Lecturer at the American University of Sharjah and advisory board member of ICAEW Middle East's Members Advisory Board; and Stephen Williams, CFO, Gulf International Bank.