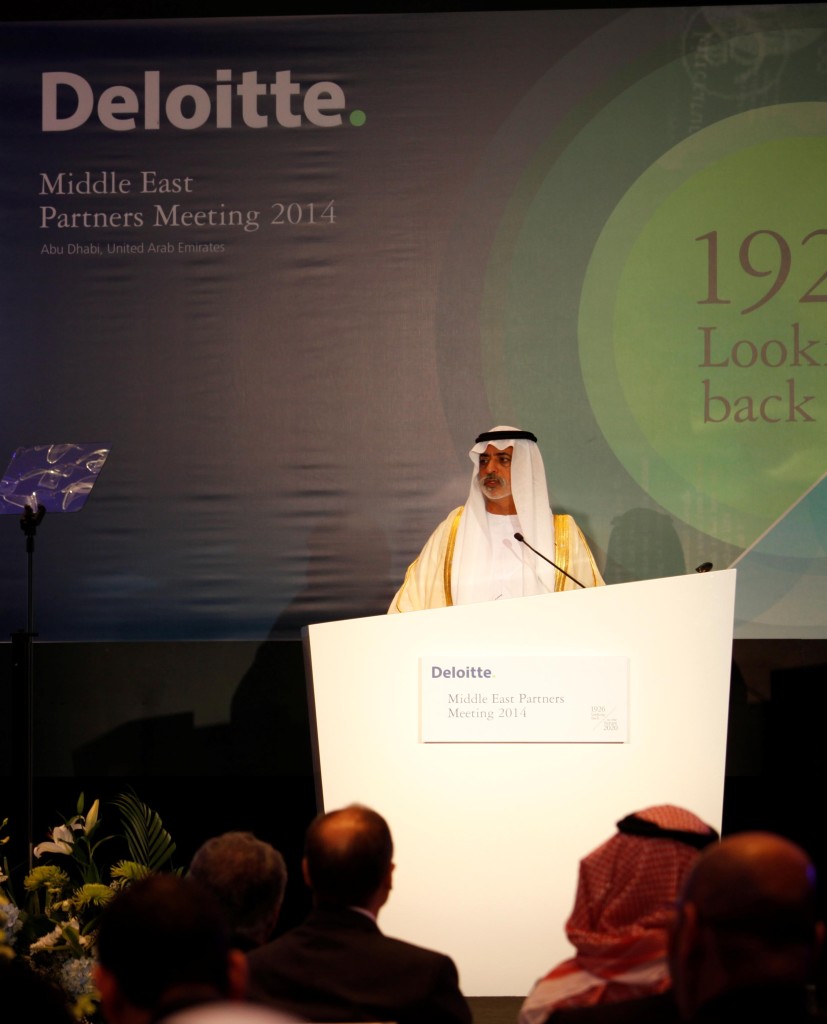 His Excellency Sheikh Nahayan bin Mubarak Al-Nahayan, Minister of Culture, Youth and Community Development spoke in his keynote speech at the 2014 Annual Deloitte Regional Partners' meeting held in Abu Dhabi, about the lessons learned from the past of the UAE as it faces the future, and the fundamental investments made in education, technology, and infrastructure.
His Excellency added, "We have welcomed talented and ambitious people from all over the world.  We have become a paradise for industrious entrepreneurs.  In a territory famed for fossil fuels, we have made a massive commitment to reducing our carbon footprint." He also remarked on the continued efforts by the government of the UAE to push the national economy to higher levels, and added that in this, "we have relied on the sound advice of accountants and auditors and are the better for it."
His Excellency Sheikh Nahyan addressed a gathering of global and regional partners from Deloitte, the largest professional services firm in the world, and said that the "UAE and Deloitte share a respect for certain universal virtues, brightly characterizing the past and emphatically illuminating the future. No other profession is more vital to the local and global economies than yours. Your integrity, transparency, and accountability are central to the sound functioning of our world."
The Deloitte network of member firms celebrated record global revenues of USD 34.2 billion in fiscal year 2014 as well as continued double digit growth in the Middle East, where over 700 people were hired and 45 new partners, principals and directors were admitted this year to better serve the Middle East markets and their clients.
Omar Fahoum, chairman and chief executive of Deloitte Middle East said: "Our firm was established in the Middle East in 1926 as the first Arab accountancy firm at that time. We opened our first office in the UAE in 1964 and since then have not only witnessed but also contributed our professional expertise to the remarkable transformation of the United Arab Emirates which His Excellency Sheikh Nahyan just called "one of the world's most successful mergers", a position our Deloitte M&A experts fully endorse".
Mutasem Dajani, Deloitte UAE regional managing partner added, "As the UAE transformed itself to a major player in world economies so have we also worked on transforming our own firm from offering mainly only audit services to a full multi-disciplinary professional services organization with experienced audit, tax, risk, corporate finance and consulting professionals from the UAE, the Middle East and over 65 countries, who deliver expert services to our public and private sector clients in the UAE and the region and who contribute to our communities".