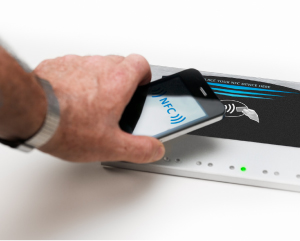 NEW CONTACTLESS technology where users simply tap their smart phones, watches, wrist bands in front of a secure payment reader has been introduced in the UAE.
According to its developers, the groundbreaking MasterCard PayPass network is being enhanced in the country in preparation for the launch of Near Field Communications (NFC) payments technology, a system that can be accessed with modern day smart phones and mobile payment tags.
Completion of the installation of MasterCard PayPass terminals across more than 1000 stores will commence in December, and will include popular areas like coffee stores, fast food restaurants, family diners, cinemas, general retailers and convenience stores.
"The introduction of more than 1000 PayPass terminals across the UAE will provide consumers with improved access to faster payments at check-out," said Eyad Al-Kourdi, Vice President and Country Manager, UAE, MasterCard Worldwide.
No need for PIN number
The MasterCard PayPass technology eliminates the need to enter a PIN or fumble for cash and exact coins. Cardholders also don't need to hand their cards to a clerk or manually swipe through a reader.
According to Al-Kourdi, the new contactless payment technology is currently being adopted in countries across the Middle East such as the UAE, Qatar and Lebanon, "and as we continue to drive additional PayPass acceptance among banks and merchants, local consumers can expect secure and convenient solutions to their everyday transactions."
MasterCard has already introduced mobile payment wallets – payment cards placed inside smart phones – in other parts of the world and will soon be launching it in the Middle East region in collaboration with some financial institutions.
The four main PayPass issuers in the UAE currently are Dubai First, Mashreq Bank, Emirates NBD and Abu Dhabi Commercial Bank.