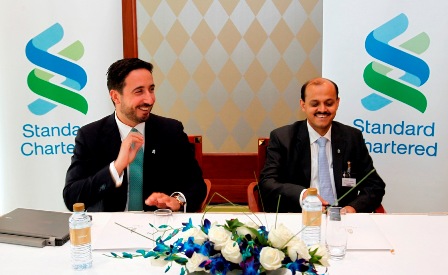 STANDARD CHARTERED recently hosted a Macro-Economic briefing session titled; "Transforming, Rebalancing, and Outperforming" for its corporate clients in the UAE. The bank is holding similar briefings to clients in Bahrain and Qatar.
The sessions are held exclusively for Standard Chartered's clients, with a cohesive programme that provides in-depth insight and analysis on the global, regional, and local economic outlook as well as the financial picture for the year ahead.
At the sessions, Marios Maratheftis (pictured left), Head of Macro Research, Standard Chartered Bank, and Samiran Chakraborty (right), Head of Research, India, Standard Chartered Bank discussed the implications of the transformation that the world is going through, to the business environment in the MENAP (Middle East, North Africa & Pakistan) region.
This transformation is partially driven by the deleveraging of the West and the increasing reliance of Asia on its regional drivers of growth, making the old models of growth obsolete.
As China and Asia are looking to rebalance their economies, there are risks, especially when it comes to politics and policy. But the world economy will continue to grow, and growth in 2013 will probably exceed 2012's.