For Murtaza Chevel, diplomacy has always been the name of the game. From forging strong business networks across a diverse range of cultures to appeasing powerful financial institutions when they have seemingly lost faith, the Union Properties CFO is adept at getting the best deal for all parties.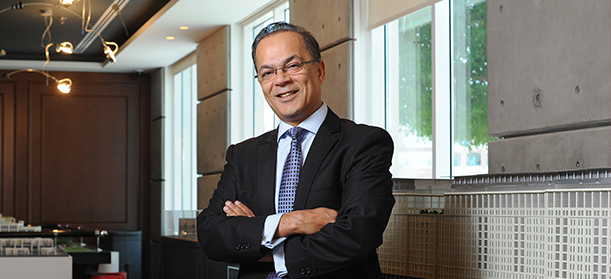 "You're only as good as your last transaction." As a seasoned finance professional, Murtaza Chevel appreciates the wisdom and weight of these words for many reasons. From keeping up appearances with influential allies, upholding his own integrity and – most importantly – ensuring his employers remain in the black, Chevel knows never to take his eye off the ball.
Born into a finance background in Karachi – his father and grandfather were both stockbrokers – Chevel's family moved to Kuwait when he was a child. He was always clear that he wanted to work in the industry. "Accounting always seemed a good option," he says. "I knew a CFO would never go hungry." After getting his high school education in the Gulf state, he moved to Toronto, Canada to join Ernst & Young in 1989 and achieve his accountancy qualifications. He would go on to spend 14 years at the firm, amassing diverse experience in the US, the UAE and Bahrain across a range of projects.
Following his stints on a number of projects across the Gulf, Chevel decided to move back permanently once offered the CFO job at Dubai Investments – one of his clients whilst at EY – in January 2004. During his tenure at the company, the number of programmes they were working on doubled from 18 to 36. "It was an exciting period of growth," he says. "Dubai Investments was growing through its own start-ups and acquisitions. The company had its own private equity and investments arms, and shareholder value was always our objective. The progress the company has made is amazing – just like that of Dubai as a whole."
Next up was a two-year stint at Habib Investment, until 2007, when Chevel was headhunted by Palm Utilities to become its Chief Financial Officer. However, towards the end of 2009, with Dubai suffering the effects of the financial crisis, Chevel was made redundant. Fortunately for him, his strong relationship with his former Dubai Investments chairman Khalid Kalban – who by now concurrently held the same position at Union Properties – enabled him to make a seamless transition to being the company's CFO.
Arguably the greatest achievement of Chevel's career came after he joined the company, but it would take years for his efforts to come to fruition. Still reeling from the effects of the crisis, Union had AED 7.5 billion of unpaid loans with over 20 banks, who were threatening to pull the plug. Exacerbating matters were a number of unfinished property developments within the company's portfolio, including Motor City and Index Tower in DIFC. Although the company was in dire straits, Chevel and his peers refused to see Union go under. "I told the banks that it wasn't enough for them to simply say 'you're in debt and need to foreclose.' I negotiated hard. Sometimes things were pleasant, sometimes they weren't. I made it clear that progress wouldn't happen overnight, and that our main assets – our developments – would be worth much more once complete."
Despite the banks' initial reluctance, Chevel and Union Properties' never-say-die attitude paid off. The company struck a series of complex deals, in which approximately a third of its property would go to presold buyers, a third to the new market and a third to the banks themselves. The banks initially allowed Union to complete its projects over the next three years. By 2014, the company's shares finally paid dividends, and Union had no legacy debt. Looking back on the long-running saga, Chevel draws immense pride and has learned valuable lessons from the experience. "The whole process was challenging, interesting, intense," he says. "A lot happened from financial, legal and operational perspectives. It was exhausting and adrenaline-filled, but most importantly, it was an interesting challenge."
Chevel's handling of Union's debt difficulties was not the only time he has been adept at managing sticky financial situations. Throughout his career, he has always held dear the notion of forging durable working relationships that allow all parties to emerge in credit throughout any given rough patch. "I've always believed that having a strong network of contacts in the finance industry is absolutely key," he says. "It goes without saying that you need to have other board members onside throughout any given difficulty, but strong relationships with banks and financial institutions are arguably more important." Chevel believes this gives him greater bargaining power when it comes to thinking outside of the box. "Cultivating an environment of trust within my network gives more unusual ideas greater credibility," he says. "As a CFO, sometimes you need to be creative, but as long as you do your due diligence, these kinds of solutions are what will give your business the best results."
Linguistic and cultural proficiency have been a cornerstone of Chevel's career and personal life. His international upbringing and professional experience have given him the perfect leverage to succeed in the competitive and diverse setting of Dubai. "I view my multicultural background as my greatest strength," he says. "I operate mainly in English, but speak Urdu, Hindi and Arabic. I think that's made me equally comfortable with Western, Eastern and Middle Eastern cultures." However, Chevel is conscious of the pitfalls that come with the territory of being multilingual. "The main challenge in Dubai is that there is no homogeneous ethnic group," he says. "The subtleties in how you address different nationalities mean you can so easily offend someone. You need to think about how the person you're engaging with will interpret what you say."
Chevel sees his biggest daily challenge as "working backwards" to ensure that finance can support the business. "Aside from obvious things like ensuring the business has adequate liquidity, the financial consequences of operations aren't always easy to deal with," he says. "Different departments often commit to things without considering their financial consequences, but it would be nice if finance was considered first." Chevel is quick to acknowledge that this is wishful thinking. "My job is to find funds and make the impossible possible," he says. "If it is to be done, then you have to work in reverse. There isn't always a solution, but we have to – and will – find one."