Dubai Multi Commodities Centre has come a long way in its 10 years. Sitting at the finance helm for an authority that boasts 11,700 companies and 44,000 employees under its jurisdiction, CFO Jignesh Sanghvi is tasked with strategically driving an organisation that is a global hub for gold, diamonds and tea trading.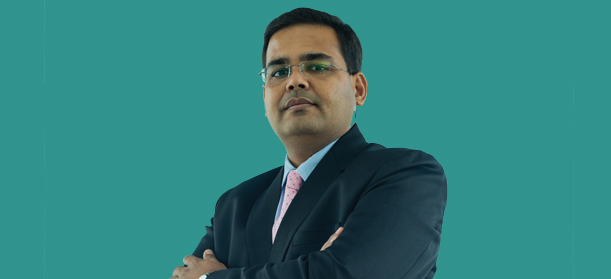 I'm not a particularly talkative person; I believe in walking the talk and getting things done." For an influential figure in a commodities authority – one that deals with complex trading – Jignesh Sanghvi has always been a fan of keeping things simple. As CFO of Dubai Multi Commodities Centre (DMCC), Sanghvi sits in a position of strategic influence in an organisation that was named 'Global Free Zone of the Year 2015' by The Financial Times' fDi Magazine. "It's important to apply common sense to situations and not to overcomplicate matters," he says. "I always endeavour to look at the positives of a situation before anything else."
Sanghvi completed his high school education in home city Ahmedabad, before obtaining a finance and accounting degree from Gujarat University in 1999. After graduating, he was quick off the mark in creating a platform for personal financial success, obtaining his Institute of Chartered Accountants of India (ICAI) qualification in 2000.
He kicked off his career as a finance management trainee at Indian FMCG firm Nirma Limited in Ahmedabad. He was quick to impress at the firm, and was headhunted for a senior auditor role at a Dubai-based audit firm after just six months, a move that would prove to be pivotal in his career. Joining the company in June 2000, Sanghvi quickly adapted to life in the UAE, thriving in his new role for the next three years.
Sanghvi believes that his experience of settling in the emirate is one that resonates with a number of its expatriates. "I think that most people move to Dubai with a short-term goal, but reach a point where they find it hard – if not impossible – to do a U-turn, and end up staying here," he says. "The city is such a great platform for business and to have a great lifestyle – it's cosmopolitan, diverse and can provide you great experiences."
Sanghvi's first big break soon arrived. Still based in Dubai, he joined international engineering giant Chicago Bridge & Iron Company as a consolidations accountant for the eastern hemisphere, where he would undertake a range of key responsibilities for the firm. The company's business was largely split between the Western and Eastern hemisphere, with Sanghvi tasked with the group consolidations function for the latter.
"My work covered the APAC and EMEA regions, as well as Russia and China," he says. "I was responsible for more than 100 companies and entities, and had to deal with complex accounting systems for each jurisdiction, and obviously a diverse range of nationalities." Working for a company listed on the New York Stock Exchange also provided additional pressure for Sanghvi. "Meeting deadlines was critically important in this respect," he says. "My time at CB&I was a launchpad for my career."
It was with a heavy heart that Sanghvi departed CB&I. He was offered roles in London and Perth with the company, before receiving a fateful call from a Dubai-based recruiter "I was very happy at CB&I, and didn't want to leave," he says. "The company had a great track record of employee retention – and with good reason." He fondly recalls the excitement he felt upon being approached by DMCC for a business analyst role. "I got the call asking to go for an interview with a newly formed free zone, a government entity," he says. "I met with the CFO, we talked for almost two hours, and by the time we were done I was told that I'd effectively been hired. It was made clear to me that I would need to develop a strong understanding of the business – and commodities."
Established by His Highness Sheikh Mohammed bin Rashid Al Maktoum, vice president of the UAE and ruler of Dubai in 2002, DMCC had less than 100 employees in its ranks by the time Sanghvi joined in 2006. "It was imperative that we strengthen our processes; we were preparing for growth and needed to be able to  operate as a conglomerate in line with international standards," he says. Having followed through on these plans, efficiencies improved significantly for DMCC. "To give you an example, in 2005 our year-end financial results were ready within a period of 6 months, today they are delivered within 45 days subsequent to the year end," Sanghvi adds.
The healthy state in which DMCC finds itself today has not come about without challenges. Sanghvi clearly recalls the struggles the body faced from 2009-2010, in the aftermath of the financial crash of 2008. He and his team were adamant that the poor state of the market would not impact on DMCC or its stakeholders, and that timeliness would not be affected. "There's no doubt that that was a challenging time," he says. "We underwent a reorganisation process, which was a steep learning curve but also unique opportunity." The organisation subsequently pulled through the tough times, avoiding defaults on any of its payments.
Now that DMCC has healthily emerged post economic crisis, it sits as the largest free zone in the country, with 11,700 companies and 44,000 employees under its jurisdiction. Over 2,000 companies have joined DMCC every year for the last three years, with the authority gaining an 86 percent client satisfaction rate en route. Its primary source of income is from membership fees, while making Dubai a "global commodities hub" remains its main aim.
At the core of this target is Sanghvi, whose job is to drive DMCC's differentiation. "We want DMCC to be the ideal platform for networking and business development," he says. "The world is volatile in terms of economic growth, so we need to target the right markets and make sure we bring them to Dubai. The definition of 'commodity' is broad, so it takes time to develop which companies we want to have here. This takes time to correctly judge."
Already a hub for gold, diamonds and tea trading – the UAE is now the world's largest re-exporter of tea – DMCC also features a heavy presence from companies in the shipping, energy and food trade industries. Sanghvi says the firm is currently targeting firms from specific markets – China, India, Germany and Turkey – and believes Dubai's location and business culture are an attractive prospect. "Dubai's port facilities, infrastructure and transparency can give investors confidence," he says.
A key part of bringing new business to DMCC has been facilitating customer experience. For Sanghvi and DMCC, this mean digitalising their business. He has recently overseen the automation of services, making a variety of processes more straightforward. "We want to make life easy for customers," he says. "Prospective foreign investors can now sit in their home country and submit all documents and licenses electronically to set up a business here."
As could be said for most senior finance professionals in this day and age, Sanghvi believes his role has evolved – not just in terms of seniority – since he joined DMCC. "I started working more in terms of operational finance," he says, his 10-year anniversary at the company approaching in June this year. "But I now spend much more time working on the strategic side of things." Over the years, Sanghvi became a finance controller and then director of finance in 2014, where he was a "de facto" CFO until being given the top title in 2015.
Sanghvi has also undertaken a hands-on role on DMCC's Advisory Committee, taking on the role of company secretary at the beginning of 2015. Sanghvi is responsible for setting the agenda for board meetings, as well as taking minutes for proceedings. This is in addition to the other ways he directly works with DMCC's most influential members. "I'm responsible for accounting, governance and reporting, as well as providing strategic support to our CEO and executive chairman," he says. "DMCC has a strong governance framework, and all business decisions are taken at committee levels."
He also believes it is imperative that his team remain mentally fresh. "Numbers, per se, can be boring," he says. "When it's a question of 'numbers, numbers, numbers' it can be easy for work to become stale." With this philosophy in mind, Sanghvi organises a social calendar for the finance team, comprising team outings and Almas Tower staircase climbs. "I try to help the team think differently," he says. "Since becoming CFO I've had an open door policy, and I try to help my team to have a good work-life balance. They work long hours and need to be appreciated."