A veteran CFO, Jairaj Jaisinghani is steering Jumbo Group's transition from a retailer and distributor to a diversified business group with a strong focus on its services business.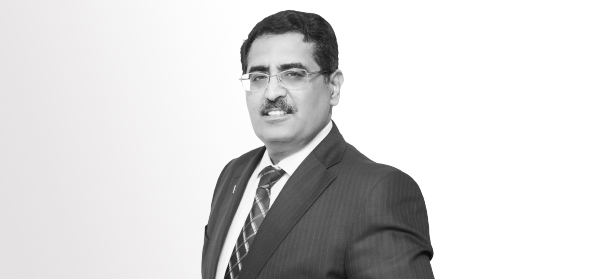 Can you walk us through your resume?
I have almost 27 years of experience working with manufacturing companies in India, spanning across various industries including electrical engineering, pharmaceuticals and textiles. I have worked for names like ABB, Madura Coats and HEG. I've been with Jumbo Group for the last two-and-a-half-years.
What made you join Jumbo?
It was an excellent opportunity for me. Working in different industries, where each business has its own dynamics and nuances in terms of customer expectations and marketing gave me valuable insights into how business managers respond to those challenges. Joining Jumbo, which has interests in omni-channel retailing, distribution and services, was an exciting change, and personally, it has helped to broaden my perspective and knowledge. I have spent a good part of my career in global powerhouses, and I could bring those values and good business practices to Jumbo, which is a trusted brand in this part of the world.
What was your mandate when you came on board?
My main area of focus was to make sure that the capital invested in business was used effectively, and the finance function was aligned with the company's growth plans and strategic objectives. The primary responsibility of any CFO is to keep an eye on working capital and cash flows. We all know that the role of the CFO has evolved, and they have to participate in formulating and executing company's growth strategies, and benchmark it against various financial parameters. It's important to keep the balance, which is not easy.
What have been some of your biggest challenges since you joined Jumbo?
When I joined the company, it was a completely new environment for me, so I had to spent the first couple of months gaining knowledge about how the retail and distribution business operates, and get used to the new market, which is different from India. I came on board when Jumbo was in a growth phase; it was important for me to manage and make sure that this growth was achieved in a cautious manner, which required constant engagement with business heads to see how working capital was deployed and whether the growth was profitable or not.
What does the CFO's changing role really entail?
The CFO role is not just guardianship of finance; they have to be part of the senior leadership role, setting the strategic direction for business. CFOs have to ensure that the finance function is aligned with corporate objectives, and put in place proper financial reporting and monitoring systems to measure performance against plans. At Jumbo, we have to keep looking at making our operations efficient and effective because distribution is a business where you have to keep a close watch on costs.
The CFO is no longer a glorified bookkeeper, or for that matter, not even a controller of finance. He or she has to participate in company's strategy development, collaborate with business heads and make sure that everyone is aligned with a company's growth plans.
What are the attributes of a successful CFO?
First of all, a CFO should have a thorough understanding of their company's business model and market in which it operates. Second is something I call intellectual integrity. What that means is that he or she should be able to think independently and apply their judgement on what is right and what is not. Then, of course, they have to be street smart and be a good team leader. And the end of the day, they must have a good sense of humour.
What are the qualities you look for when building a team?
Any company is as good as its people. You have to have the right sort of people and team as no one can do things alone. I look for a certain level of intelligence, and instead of placing too much focus on academic knowledge, I prefer people with common sense and relevant experience.
What kind of growth opportunities do you see for Jumbo in this tough economical climate?
The business environment today is more challenged compared with a year ago. Back then, the mood was bullish when Dubai won the bid for Expo 2020. Unfortunately, the softening of oil prices has had an impact on the region. However, the UAE is more cushioned because its dependence on energy revenues is relatively smaller compared to other GCC countries. In 2011, the UAE's economic dependence on oil revenue was around 77 percent, and it is lower than 30 percent now. That is a rapid transformation by any standards, and you have to thank this country's visionary leadership for that. Things might be slow today, but the market will bounce because the fundamentals are strong. Huge investments have been made into infrastructure projects, and sectors such as healthcare and education, which will lead to demand generation.
All this opens up opportunities in the services space, which is the direction Jumbo has been taking. Traditionally, we have been focused on retailing and distribution. Though it still remains our backhone, we have been increasing the serviced-led component of our business through our enterprise services division, Jumbo Engineering and Logistics. Jumbo is in transition, and we are following Dubai's example of diversifying.  The group was established 40 years ago, and we have seen ups and downs, but we are as resilient and sturdy as this country, which is a beacon of excellence in the Arab world.
How do you plan to fund your growth plans?
Ours is a well-funded company and we have no plans to go public. It all depends on the valuation, what is the need for those funds, etc. Just raising funds and keeping that cash doesn't make any sense.
The megatrend of digitalisation is offering new opportunities for CFOs. What is your take on this?
Digital is indeed the way to go. If we have to bring efficiency to our operation and be responsive to market trends, the only way to do this is through digitalisation. At Jumbo, we take this very seriously, and we have an internal IT committee, which meets every month. We have adopted a very balanced approach because it is easy to get carried away, which leads to wastage. a
You have introduced omni-channel retailing last year. Has that really gained ground now?
Jumbo was the first retailer to bring the concept of omni-channel to the region. It may not have grown as fast as some other countries, but we know from experience that online retailing doesn't give you returns from day one. We have integrated online retailing with our brick-and-mortar stores, giving the flexibility of choice to our customers.