Fuelled by a vast transition in its finance and IT departments, Saudi Arabian Airlines is reaching for the skies. Company CFO and CIO Muhammad Ali Albakri tells James Dartnell about his ambitious five-year roadmap to transform the carrier by optimising its network map.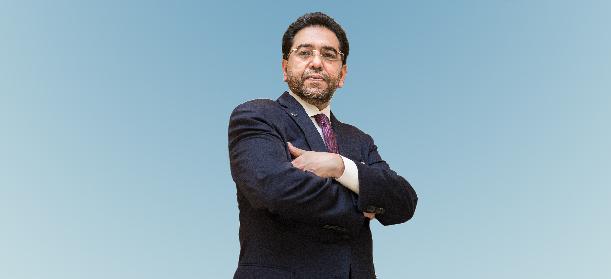 Muhammad Ali Albakri holds a rare and unique vantage point in his job. As CFO and CIO of Saudi Arabian Airlines, he has access to – and a large degree of control over – some of the company's most precious assets – its financial performance and decision-making, and data that spans the enterprise. This gives Albakri a unique platform from which he can observe and influence the business. This insight has allowed him to paint a holistic picture of the transition in which Saudia finds itself. "We are in the process of redesigning the airline," he says. Albakri has played a key role in defining the company's long-term roadmap, and finance has played a pivotal role in that change. "From 2007-2013 the company underwent its IT transformation. Then, from 2013-2015, it was the turn of our finances. From now until 2020, we will see the resultant transformation of the entire airline," he says.
After a great deal of development for the organisation, Saudia and Albakri are determined to launch a new era for the company. Having laid the financial foundations for change, the company has begun a five-year plan that encompasses 25 new initiatives. Chief among them is the drive to reshape Saudia's flight network, the company's 'SV2020' plan. "We need to optimise our profit per flight by increasing load factor," Albakri says. "That requires a rethinking of our network, and offerings to the different markets in which we operate."
At the core of the company's improvement plans is making real-time, concise decisions about the best possible routes the airline should be selling. Saudia targets three segments of the traveller market. Its primary customers are those on its domestic flights, reaching 29 destinations within Saudi Arabia. Next is its international network, encompassing flights across the GCC, to Europe and North America, and third is the religious market, with passengers arriving for Hajj. The company is currently looking to extend its reach to South America and to additional flights in the Far East. "We're expanding our network through our Sky Team Alliance," Albakri says. "We need to optimise our network for our fleet. We cannot afford to be in a cocoon and stick to purely regional or domestic markets. We have to protect our market share while looking for network growth."
The airline industry is one of notoriously tight profit margins, and Albakri is all too aware of the difficulties the company faces in a competitive Middle Eastern market. "The open skies policy is both an opportunity and a threat," he says. "On the one hand, every airline in the world lands in Saudi Arabia, but on the other, we face fierce competition from regional and mega carriers, who have access to the Kingdom." Critical customers also have to be placated and satisfied. "The reality is that we have realised that we need to reshape the airline. That will give us strength to compete better and raise demand. Today's passengers are extremely savvy to the services on offer and have high expectations. They have so many touch points "
Having impressed in his role as the company's CIO, Albakri was given the dual role of CFO in the early stages of 2013. As soon as he took over, he realised a series of changes were needed in the department's operations. "We sought to instigate a widespread transformation," he says. "Saudia had multiple entities which brought its set of challenges. We have our holding company, the airline and other private companies, some of which were in the midst of IPOs. Processes had to be standardised."
Albakri realised that automation would be the key Saudia's success, which they "could not achieve" without it. "Our finances lagged in the use of automation and IT," he says. "I also wanted to lift our overall bookkeeping capabilities; our financial planning, risk management and strategic partnerships." Under Albakri's guidance, Saudia underwent a restructuring process to "right-size" and increase efficiency across the organisation.
In 2008, he decided to invest in SAP technology, and although the company could not immediately realise its full potential, it has set the foundations for long-term success in both finance and IT. "Our investment was huge but usage initially limited," he says. "We started by using it for our passenger revenue account system, and we are now using it to calculate flight profitability. This is a tremendous help for performance monitoring and our network planning capabilities."
The technology enhancements have had a positive ripple effect both in the finance department, and in terms of the company's SV2020 strategy. Having partnered with Amadeus, Saudia is now fed real-time data that enhances its decision-making capabilities. "On a day-to-day and hour-by-hour basis, we have information on our sales records," Albakri says. "The minute the door of the aircraft closes, we know our profit and loss for that flight."
Albakri also decided that more local talent was needed in the finance department. He has hired 100 Saudis who are trained in revenue accounting, replacing the 600 outsourced staff he used in India.
A number of other important strategic decisions have been taken as part of the roadmap. While the airline acquired 100 new aircraft in 2007, the decision has been taken to invest in a great deal more by 2020, with the hope of raising the number of the airline's annual passengers to 45 million.
Crucial to the chances of this success is Jeddah's location in the west of KSA, which could provide an excellent strategic pivot for the airline to grow. With the city's King Abdulaziz Airport due to open a new terminal in 2017, he believes the targets of SV2020 will be more achievable. "The new terminal will be a city in itself," he says. "We want this to be a hub for Saudia, mainly through transit traffic."
The drive to complete SV2020 has already taken a major step, with Saudia routes to the Maldives, Ankara, Munich and Algiers due to be announced this year.