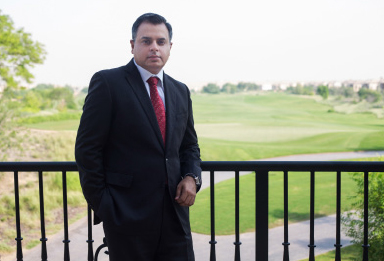 Jumeirah Golf Estates aims to bring serene sporting luxury to its course members and community residents. However, ensuring things run smoothly requires calculated business decisions from those behind the scenes, including Chief Financial Officer Faheem Ahmad.  
What excited you about joining Jumeirah Golf Estates, and what is your vision for the firm?
The whole prospect was incredibly exciting. Jumeirah Golf Estates is a high quality development, which is creating vibrant and thriving communities overlooking two golf courses, which  play host to the DP World Tour Championship. This shows its level of prestige.
Our aim is to ensure the development is known as the top residential destination in Dubai. Given how successful we've been on the real estate side of things plus our strategic location, and with Expo 2020 on the horizon as well as the sound management structure we have here, I believe our success will only continue. We plan to launch more high quality products which will only be a bonus.
How strong is the real estate market today, and are you happy with JGE's level of occupancies?
In the long-term, our sustainability remains intact. In terms of occupancies, JGE is a growing community. We have more than 700 residences at the moment, and that number is only increasing. Things are going well on the golf side of our business as well. Our courses have 800 members from over 20 countries.
How do you differentiate yourselves in such a competitive space?
As I've said, we're a premium brand with high-quality products. Our communities provide world-class facilities, and are well-located for Al Maktoum International Airport. We've recently participated in property shows in London and Kenya, and our portfolio was well received in both. Roughly 75 percent of our properties are course-facing, which is a major selling point.
Amongst our portfolio, we also have 674 affordable apartments and townhouses, which are still equipped with world-class amenities.
Will your focus be always on high-end luxury developments? If so, will that focus equal high prices?
Over the last 12 months we've seen a greater demand for more affordable homes, so that's something we've begun to cater for. Off the back of that demand we've developed 75 three or four bedroom townhouses and 47 five or six bedroom villas.
What is your approach to risk mitigation?
We're extremely committed to risk mitigation and corporate governance strategies, and for us it's key in the planning stage. In many senses, planning is especially important in the real estate industry, so effective monitoring allows us to proactively mitigate risk. Our risk mitigation is an entity-wide initiative, so the finance function works closely with our operations teams so we can take collective action on a timely basis. We've ensured that our portfolio is diversified so that we have a range of products for the market, which is an important aspect of risk mitigation.
Is the role of the CFO very different in a private company as opposed to a public organisation?
Within the private sector our work is very market-driven, and more about creating added value for business performance. CFOs in the public sector are expected to be more proactive in terms of policies, procedures and processes.
Do you think the role of CFO is very different today from what it was ten years ago?
It's often said, but the CFO is now tasked with being a business partner to the CEO as well as a catalyst for the process of change for the organisation as a whole, and not just being an accountant or bookkeeper. This encompasses having exceptional knowledge of the business, as well as strong analytical skills on top of traditional duties.
How does a CFO create value?
The CFO is extremely influential in strategic planning, and knows a company holistically. In some way or another, all other business unit heads are tied up with their own dealings. Both the CFO and the CEO's work transcends operations, and both have to fully grasp entity-wide processes, and provide important guidance to them. As part of this mandate of being in-tune with the business, it's important to align all areas of the business. The CFO creates value by focusing on business performance monitoring on a timely basis. It's all an information gathering process, where finance becomes a hub for business data.
What's the biggest challenge you face in your role?
Financial and accounting knowledge is obviously not straightforward. Understanding all aspects of a business is not easy, nor is working with senior management figures to deliver connective action. CFOs are expected to be a jack of all trades.