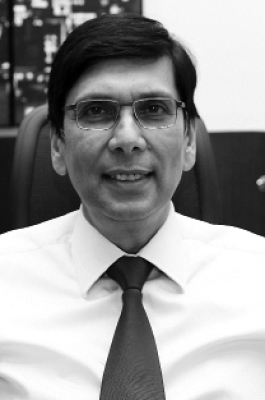 Imran A Ali, MENA Assurance Leader, EY, explains why CFOs in MENA should take notice and develop a digital transformation strategy.
Digital is fundamentally changing how companies do business in the Middle East. Enabled by data and technology, digital is a continuous form of disruption to business models, products, services and experiences. It has radically changed the way people in the region consume content, communicate and access products and services.
New companies are popping up overnight even as existing companies work to gain the agility to compete in today's increasingly complex market landscape. Today's survivors and tomorrow's winners understand the opportunities and the risks that digital creates.
They are exploiting the opportunities and managing the risks by making their organisations essentially digital.
No executive should be more concerned about the opportunities and risks digital represents for their business than the CFO.
Digital technologies are fertile grounds for innovation, which lead to new products and services, new channels to market, greater efficiency and more effective, measurable marketing spend. As a result, digital is already reshaping many industries, giving the early adopters a clear competitive advantage that can disrupt the industry as a whole, and forcing other players to either follow behind or lose their ability to compete.
Market leaders in industries at the fore of the digital revolution, such as media and entertainment and technology, have learned that digital is not something they needed to adopt at a point in time. It is a continuous reinvention of how they link with customers, consumers and employees to create different ways of working.
Other industries are still on the cusp of their digital transformation. For example, the healthcare and pharmaceutical industry is starting to use digital technology to shift its focus from selling medication, to selling health outcomes. In a few years' time, wrist watches may stream data about blood pressure and other vital health measures to the cloud.
Digital can also disrupt the competitive landscape by levelling playing fields, giving small start-up companies or non-traditional competitors the same level of market access as an established company. Organisations that were once on the periphery of your industry can suddenly become a real threat to the core of your business, thanks to innovative use of digital technology.
Digital is not a technology or marketing issue and therefore cannot be thought of in isolation. It is changing how business is done, and will be one of the defining characteristics of this era.
For CFOs, it presents massive opportunities to create shareholder value and grow the business as well as new and unforeseen risks that can put a company's finances, brand and reputation in harm's way.
We have seen the CFO's role expanded from its core focus on controls, budgeting and reporting to a broad leadership role responsible for charting the company's growth agenda while protecting the organisation from risk. In fulfilling this role, CFOs will increasingly need to understand the power of digital to support them, while also understanding the associated risks.
Take digital out of the silos
For many CFOs in the Middle East, the term digital evokes technology channels and tools such as social media, cloud and mobility. But leading CFOs understand that digital represents an ever-broadening field.
Areas where digital is already having a major impact in many industries include business strategy and operating models, product and service innovation, supply chain efficiency and flexibility, tax and legal compliance, and customer targeting and experience. For example, in the luxury industry, the customer has historically derived brand value from the service they receive when they enter a shop or showroom. The ability to purchase or share high-end goods online alters this brand experience.
When embraced at the heart of a business, digital can redefine the entire value chain. It serves as a powerful tool for achieving a company's strategy and influences what that strategy should be.
Get the balance between innovation and risk management
To seize the potential of digital, CFOs need to work closely with functions across the enterprise. Collaborating with others will help CFOs understand how the technological landscape is evolving and what the functional needs are so that they can make the right investments to encourage and enable innovation and support the business' growth.
One of the greatest risks associated with digital is being surpassed by the competition through a lack of innovation or inaction. But there are other risks associated with digital that CFOs need to manage proactively – such as reputational risks associated with data usage and cybersecurity, or tax obligations relating to e-commerce.
CFOs need to implement the right governance framework and safeguards to manage these risks and sustain business continuity.
Tap into expertise of "digital natives"
To embrace digital's potential for the business, CFOs need to consider that they may have skill and knowledge gaps to address. The key to bridging this gap will be to work closely with the Chief Information Officer (CIO) and the Chief Marketing Officer (CMO), who are likely to be closer to both market trends and technological innovations.
CFOs should also be rethinking what skills are lacking within their finance function, as well as those gaps that will emerge as digital becomes more pervasive. CFOs need to look across the organisation and recruit digital natives, those who know how to use and apply technology and data to solve problems quickly.
CIOs and CMOs historically have had digital natives on their teams, but the finance function has not. As demand for these skills grows across all industries, and all parts of the business, a war for digital talent is now on.
Much of the innovation and growth is being driven by those who didn't grow up in legacy companies, but who have grown up in a digital world.
Finding the right talent to meet your business needs a strategic plan that maps your workforce against your business strategy.
In five years' time, digital will be a standard way of doing business. CFOs need to prepare today's finance function to meet the business needs of tomorrow.
Take a holistic view
Whether they have chosen to embrace it or not, no company today is untouched by digital, perhaps only because their employees and customers are talking about them on social media. But in most companies that have stayed at the periphery of digital change, the CFO will likely find that there is digital spend happening in pockets across the organisation.
Companies are diverting more money to digital advertising, IT development or consulting with third parties on social media. The CFO should have both a clear view of exactly what is being spent on digital, and the value that is being generated. They often have neither.
For many companies, digital is already a standard way of doing business. In less than five years, it will be every business' standard.
And nobody wants to fall behind.